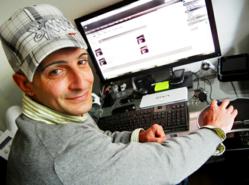 "I have had a lot of success with Ecommerce and I would definitely recommend it to anyone"
Worcester, UK (PRWEB UK) 9 May 2012
Worcester based online specialists Names.co.uk have been working with small and medium sized businesses for over 15 years to help them get online and make the most of the digital revolution. Sally Tomkotowicz, Customer Acquisition Marketing Manager said, "We've had some fantastic feedback from some of our customers and recently heard an inspirational success story from one particular guy and I wanted to share his success to prove that it is still possible to get a new business off the ground, even in these hard hit times."
Paris Nolan, who owns Demon Eyez is a names.co.uk customer who manages his online shop using a DIY Ecommerce tool - selling fun coloured and themed contact lenses - and his success story provides inspiration for any new online start up.
Paris has been with Namesco a relatively short time and already runs numerous online shops from his home in Portsmouth. Instead of engaging a traditional website design function, Paris opted for an easy to use Ecommerce package and decided to build the basic shop himself using the drag and drop website builder.
Demon Eyez operates in the UK and American market and within three weeks of setting up the shop he was receiving over 100 orders a day! Commenting on his recent success, Paris Nolan said: "We came to Names.co.uk because of the price and the whole package – it had everything we wanted, for example, the emails, easy design, handling the customers all in one place and it's all set up for payment integrations.
I found Ecommerce very simple to use, there are instructions, help guides and you have technical support there too if you get stuck. It took us about 3 weeks to design the website and within 3 weeks after putting the website live we started taking orders"
An advocate for the names.co.uk Ecommerce product, Paris said he finds it user-friendly and has all the features he needs to run a successful online shop: "I really like the setup, where it has the order manager, and when you are sending orders, it automates emails to customers with one click handling, rather than having to send them out individually to each customer. Plus it's really easy to design and upload instantly – it's perfect."
It doesn't stop there – Paris and his wife Sam have more tricks up their sleeve and are taking on some other new and exciting ventures with Ecommerce:
"We have got two shops live at the moment, another that's almost ready to go up and another three or four ideas to add with Namesco. Plus we are bringing our diamante shop to Namesco as well.
I have had a lot of success with Ecommerce and I would definitely recommend it to anyone."
Commenting on this success story, Sally Tomkotowicz, Customer Acquisition Marketing Manager, Names.co.uk said; "We've worked with thousands of businesses to get them online both effectively and quickly, and we are delighted that Paris can focus on his core proposition and customers without getting bogged down in the details of the technology. Tools like our Ecommerce product have evolved so much in recent years that getting set up online has never been easier. With setup costs so low, we're seeing more small businesses focus on their online operation during the recession because they are more likely to boost sales".
About Names.co.uk
Names.co.uk provides professional online services for businesses and individuals including Web Hosting, Domain Name Registration, Email services, Ecommerce solutions and Business Servers. Names.co.uk has over 15 years' experience in the Internet industry and employs a team of nearly 200 expertly trained individuals across the UK.
Names.co.uk is part of the Dada Group, an international group of companies who specialise in providing professional Internet services. As a group, they currently have over 1.7million domains registered and over 480,000 clients using their products and services.
For more information please see http://www.names.co.uk/ecommerce.html
Press contact:
Sally Tomkotowicz
Email: stomkotowicz(at)names(dot)co(dot)uk
Skype: sallytomkot