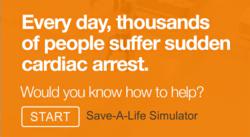 What would you do if someone collapsed from cardiac arrest?
Brentwood, TN (PRWEB) May 11, 2012
The HeartRescue Project, funded by the Medtronic Foundation, has released an interactive tool that simulates a first-person view of a public sudden cardiac arrest. The Save-A-Life Simulator places you in a mall setting, where a person collapses on the floor. Anxious and confused bystanders are hesitant to take action, leaving you with a choice to help the victim.
The simulator asks "What do you do?" in a variety of realistic scenarios, letting you choose your own path. While the general public knows about AEDs (automated external defibrillators) and understands what they do, using an AED on a collapsed victim is an emotional and anxiety-ridden event. Getting familiar with AED usage is paramount in acting quickly when sudden cardiac arrest strikes.
The Save-a-Life Simulator shows how an AED is used, from doing CPR compressions, to placing the pads on the patient's chest, to finally pushing the shock button. Until now, there has not been a more realistic and interactive tool that familiarizes a potential rescuer with how to handle a cardiac arrest event.
For more information on the HeartRescue Project, please visit: http://www.medtronic.com/innovation/borderless-heartrescue.html