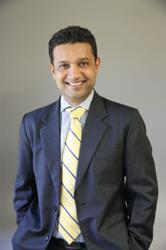 A committed business and civic leader, Mr. Desai has dedicated himself to the medical equipment industry since 1992.
Bloomfield, CT (PRWEB) May 09, 2012
Hiren Desai is a Partner at SOMA Technology Inc., which specializes in outfitting healthcare facilities with quality new and refurbished medical equipment.
A committed business and civic leader, Mr. Desai has dedicated himself to the medical equipment industry since 1992. He has earned a diverse experience – as a strategic business leader in various roles: successful entrepreneur, sales leader, medical equipment consultant, and community activist.
As an entrepreneur, Hiren founded two companies in India, which were a dedicated diagnostic lab and blood bank. Successfully developed and sold these businesses to take up new challenges and learning experiences. To grow and exercise his acquired skills on the international level, he moved to the USA and worked as a medical equipment business consultant, focusing on emerging markets, growth analyses, and strategic business planning.
With successful project implementation, he took up a new role, as a sales leader for the domestic USA market, focusing on ASC market segments. New challenges demanded understanding the target customers' requirements and drawing solutions to ensure the engagement of customer buying experiences. Success in sales leadership in the domestic and international markets paved his way to obtaining a partnership in the company, which brought him back into an entrepreneurial role.
Performing on the worldwide scale, helped him test and develop his skills on: understanding regional market dynamics, business traditions, regulations, procurement culture of target customers, developing recurring business revenues and scalability, implementing data monitoring and analysis systems to understand results and develop strategies to ensure the best ROI.
Furthermore, he has gained knowledge covering the wide spectrum of equipment in healthcare facilities, like categories ranging from lab diagnostics & blood banking to medical imaging, pain management, operating room, EMS, ER, and ICU product ranges.
His experience and extensive network and healthcare industry knowledge – propelled his involvement with IAMERS, where he now serves as a board member. In addition, Hiren is associated with the Disabled Trust of India, a charitable organization dedicated to educating children with special needs. Mr. Hiren serves there as the international director.
To read the original feature, click here
About Soma Technology, Inc.
As a leader in the medical equipment market, Soma Technology, Inc. specializes in outfitting healthcare facilities with high-quality new and refurbished medical equipment. Soma can equip an entire OR suite or hospital project or replace a single piece of equipment. Soma purchases medical equipment from hospitals throughout the United States and refurbishes it to OEM standards with its team of international biomedical engineers. This process has earned Soma a membership with IAMERS, whose standards in professionalism and ethical business practices reserves membership for the most ethical dealers, lessors, and refurbishers in the medical equipment field. In addition to refurbished equipment, Soma also distributes an impressive line of new equipment from top manufacturers including GE Medical, Dräger, Medtronic-Physio Control, Zoll, Stryker, Philips, Steris, Axia Surgical, and more. Soma offers everything including anesthesia machines, patient monitors, defibrillators, surgical tables, surgical lights, patient monitors, electrosurgical units, scalpels, tourniquets, sterilizers, C-Arms, C-Arm tables, portable x-ray machines, ultrasounds, heart/lung machines, ventilators, EKG machines, stress test systems, EEG machines, infusion pumps, and so much more. Soma Technology, Inc. has become a market leader because of its commitment to industry advancements while maintaining the highest level of customer satisfaction.