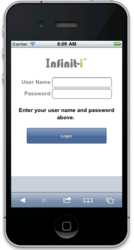 Clients will appreciate this added functionality and flexibility as a standard Infinit-i offering.
Texarkana, TX (PRWEB) May 10, 2012
Vertical Alliance Group, Inc. (VAG) a leading supplier of online training and information solutions announced today the general availability of its new wireless training capabilities for mobile devices. Many of Vertical Alliance Group customers are in the transportation industry. The new wireless functionality will allow both professional drivers and managers who are on the road the flexibility to view, test and seamlessly report safety training, company information, and important announcements to a mobile workforce. Perfect for Apple® devices like iPad® and iPhone®, Infinit-i Mobility Solutions are the next generation of online training technology and sophistication.
"We are very proud of the new Infinit-i Mobility Solutions and its many benefits that will enable our clients, especially truck drivers, to access safety training, alerts for mandatory certifications and other information easily over a wireless device, anywhere, anytime when on the road or at home," said Jay Wommack, President and CEO, Vertical Alliance Group. "Our current clients will appreciate this added functionality and flexibility as a standard Infinit-i offering and they can start using the wireless device capability immediately."
Safety and compliance play a huge factor in transportation and many other industries. Using Infinit-i Mobility Solutions a mobile workforce can now access assigned safety training and other company information efficiently and within a fixed timescale. This gives a mobile workforce the flexibility of minimum disruptions to day-to-day duties and stay in compliance of prescribed safety training, renewal alerts, fulfillment and company news and events. They have the flexibility to take safety training and view other company information anywhere when on the road using the Infinit-i Mobility Solutions. Now truck drivers don't have to be in-cab and use proprietary on board devices to view training.
Sales of smartphones exceeded those of PCs last year and with the overwhelming acceptance and popularity of mobile devices, Infinit-i Mobility Solutions is ready for use in just about everyone's favorite device. During development much attention was focused on Infinit-i Mobility Solutions reliability, visual clarity and seamless delivery of video training materials to wireless telephones or tablets.

Data streams are delivered from servers that are closest to end users, often from within their own ISP, better avoiding Internet congestion and minimizing network latency.
Accessed through a browser window on the mobile device enables seamless software updates and ensures no downtime or required user intervention.
Utilizing real-time connection sensing applies the best optimization.
Smart data retransmission for mobile networks.
Shorter times to receive initial data and fewer dropped data connections during sessions.
Vertical Alliance Group advocates the safe use of wireless mobile devices. The use of a wireless mobile device in any commercial motor vehicle (CMV) by the driver, operating behind the wheel is now illegal in the U.S. No one should operate a commercial motor vehicle or any vehicle using a smartphone or tablet device when driving the nation's roads.
Visit booth #103 for a free demonstration at the 2012 Truckload Carriers Association (TCA) Safety & Security Division Annual Meeting, May 20-22, Embassy Suites Norman Conference Center, Norman, Oklahoma. Contact Vertical Alliance Group at 877-792-3866 (ext. 300) or http://www.verticalag.com for more information on Infinit-i Mobility Solutions.
###
About Vertical Alliance Group, Inc.
Vertical Alliance Group offers the affordable and easy to use Infinit-i™ web-based training and information solution. Currently, hundreds of transportation companies are using Infinit-i for proactive CSA training, road side inspections, how to tackle rising fuel costs and much more.
The new Dan Baker "Dispatcher/Driver Relationships Curriculum" is designed to improve working relationships between dispatchers and drivers with an end result of improving operations and driver retention. SafePUPIL™ addresses training and safety issues for pupil transportation. ASafeZone™ online training for the workplace, warehouse/terminal and distribution centers offers proactive safety and other employee training. Custom Content Creation Services is available for on-site or off-site video production.
An industry first, the unique and time saving, Resource Center™, allows users to import orientation and existing training materials for new employees to review - all online - before they ever come onsite to train. See how online training based on the expertise of real-world experienced instructors and other professionals helps companies save time and money (http://www.verticalag.com/).