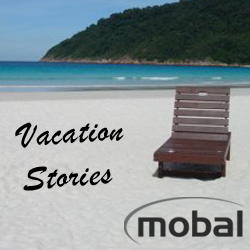 Stories inspire, entertain and educate. All vital components for planning a vacation.
(PRWEB UK) 11 May 2012
Mobal are planning a huge giveaway as part of their vacation stories competition, which they are running throughout the busy summer and autumn periods.
The aim of the Mobal campaign is to encourage travelers to tell their vacation stories, making them available to a wider audience, rather than confining them to just friends and family. To say thank you, Mobal are giving away freebies, and running a monthly competition for the best article.
Stories entertain and educate and have a more human element, which others can relate to. It's this form of engagement that Mobal plan to share with other travelers to enhance their next vacation experience.
Stephen Trenery, Editor in Chief at Mobal, believes that the art of storytelling is as important as ever: "Sometimes people don't want the cold raw facts, like how tall their hotel is, how many rooms it has or details of the entire menu at a local restaurant. A vacation story engages with people on a more human level, and everyone can do it. Stories inspire, entertain and educate. All vital components for planning a vacation. All we ask is for a little time, and we'll say thank you through lots of freebies and giveaways."
If travelers want to take part, just visit http://www.mobal.com/stories or send Mobal an email: stories(at)mobal(dot)com
COMPANY INFORMATION: Mobal Communications Inc have been renting and selling satellite and international cell phone services for over 20 years. For more information on the company and its products please visit http://www.mobal.com, call 888-888-9162 or email the customer support team at support(at)mobal(dot)com