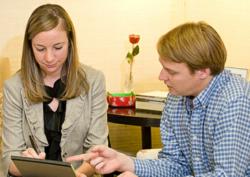 Amanda exceeded our expectations on every front.
(PRWEB) May 24, 2012
Cindy Moulton of Moulton & Arney, LLP, a Houston Boutique Litigation and Securities Arbitration law firm, went through three different website design companies unable to meet the needs of her firm before bringing ASK Designs in-house to handle the firm's website design, video and marketing needs.
"Amanda exceeded our expectations on every front. She is creative, hardworking, committed and capable. Every time I have asked Amanda to create something for the firm, her vision and execution have surpassed my imagination." -Cindy Moulton, Moulton & Arney, LLP
ASK Designs is the answer to all of your business design and marketing needs. In addition to website design, they are a full service video production company that produces everything from 45 second web videos to broadcast quality television commercials. Click here for more information.
ASK Designs creates professional websites, videos, logos, and marketing materials for any type of business. They have experience with professions ranging from lawyers to doctors to photographers and other entrepreneurs. ASK Designs creates unique and effective products for businesses and individuals.
Amanda Kopp, President of ASK Designs, says, "We pride ourselves on our customer service. When I tell you I will get something done for you, you can trust that it will be executed quickly and well. So many website companies give the industry a bad name by taking days or weeks to make minor changes to a website. With ASK Designs, you will receive nothing but our best every step of the way."
Dr. Noushin Hart, founder of Hart to Heart Cancer Consultants had almost given up on finding a website designer for her company before Moulton recommended ASK Designs.
"I spent six months searching for a web designer who would not only completely understand what I had in mind but also has the technical expertise and creative imagination to bring my vision to life. I consulted many designers and spent hours to share my ideas and visions but never felt they were the right ones. Once I met Amanda, I knew that my search was over! She has been extremely receptive, perceptive and capable and I am truly excited about the website she is designing for me. I highly recommend Amanda to anyone in need of her services," said Hart.
To view recent website designs, videos, and logos created by ASK Designs, visit the ASK Designs Portfolio. Don't see what you are looking for? Just ASK!
To contact ASK Designs, visit http://www.askdesigns.com or call (713) 337-8501.