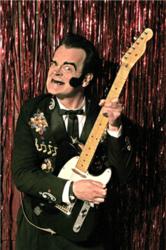 Cincinnati, OH (PRWEB) May 09, 2012
Guitar slinger Unknown Hinson returns to Cincinnati on August 4 for an evening of his trademark tongue in cheek flavored rockabilly, and Squidbillies highlights!
General admission tickets, $17 ADV & $20 DOS (plus applicable fees), go on sale this Friday May 11 at 10 AM at http://www.ticketmaster.com, http://www.tafttheatre.org, the Taft Theatre Box Office and all Ticketmaster outlets including select Kroger stores. Charge by phone at 1.800.745.3000.
While singing his own hilariously politically incorrect songs, Unknown Hinson plays guitar in a style incendiary enough to have Satan himself reaching for the antiperspirant. Looking somewhat like Dracula's nasty little brother who spent some hard years drinking and working as a carnival barker for a second-rate freak show, Unknown Hinson translates that vibe to his style of country and western-tinged psychobilly. Hinson's most recent CD release, "Live and Undead", melds weepy twang, searing guitar riffs and lyrics that speak of love-gone-bad.
Raucous, theatrical and over-the-top, Unknown Hinson isn't just for the trailer park set anymore! Unknown is gaining notoriety as the voice of lead character "Early Cuyler" in the popular show from Cartoon Network - "The Squidbillies". The first four seasons were so well-received that an immediate green light was given to future seasons.
He's toured with Hank3, Rev. Horton Heat, the Boxmasters and Willie Nelson. Appearances on Jimmy Kimmel Live and other syndicated programming round out the list. Hinson seems to collect quite a few celebrity fans. Billy Bob Thornton names Unknown as "one of my favorite songwriters and a genius picker". Matt Groening (creator of The Simpsons) labels Unknown as a "guitar maniac (and funny as hell to boot!)" Hank3 has Unknown's face tattooed on his bicep! Unknown was asked to join The Rolling Stones for sound check at their last show in Charlotte, NC. You'll find Unknown Hinson's music everywhere from Snoop Dogg's movie "LA Spectacular" to the newest version of the action-adventure open world video game "Saints Row 3".