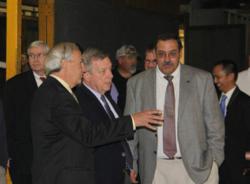 The lesson to be learned from Stertil-Koni is that it is possible to be a leading manufacturer right here in the United States of America.
Stevensville, MD (PRWEB) May 08, 2012
Stertil-Koni, the leader in the design, manufacture and sale of heavy duty vehicle lifts, was honored on May 4th to welcome Senator Dick Durbin– the senior U.S. Senator from Illinois and the Senate Majority Whip – who recently toured the company's facility in Streator, Illinois, in which the Stertil-Koni manufactures its industry leading mobile lifts, ECOLIFTS and SKYLIFTS.
Senator Durbin, who was accompanied by the Mayor of Streator, Jimmy Lansford, as well as staff from the local Chamber of Commerce, was briefed by Stertil-Koni USA President, Dr. Jean DellAmore, and Allan Pavlick, Vice President at Stertil ALM. As Dr. DellAmore noted, "We were delighted that Senator Durbin visited our facility and had the opportunity to see first-hand how our local Illinois business presence is contributing to two of the Senator's key programs: 'Investing in Illinois' and 'Jobs and Promoting Recovery.' We also are pleased to share with the Senator that Stertil-Koni is one of the few lift manufacturers in the United States that is bringing jobs into the U.S. economy and increasing its manufacturing and training capabilities." Stertil-Koni's expansion in Streator is highlighted by its new, 14,000 square foot wing, featuring expanded production capabilities as well as a new sales training center. During the visit, Senator Durbin reiterated that this indeed is a compelling story, particularly when so many American companies have been outsourcing jobs overseas.
Concluded Dr. DellAMore, "The lesson to be learned from Stertil-Koni is that it is possible to be a leading manufacturer right here in the United States of America. The citizens of LaSalle County, Illinois certainly appreciate that fact and we certainly appreciated Senator Durbin's visit."
Senator Durbin is a Democrat from Springfield, Illinois and he is the 47th U.S. Senator from the state of Illinois. Mr. Durbin is a graduate of Georgetown University and was elected U.S. Senator in 1996. He is the Assistant Majority Leader, the second highest ranking position in the Senate, also known as the Majority Whip. Senator Durbin has been elected to the leadership post by his Democratic colleagues every two years since 2006.
About Stertil-Koni USA, Inc.
Stertil-Koni is the global market leader in heavy duty hydraulic lifts nd is the preferred supplier to the world's leading companies in the truck and bus industries. Stertil-Koni's breadth of lift products meets all ranges of lifting needs and includes mobile lifts, two-post, four-post, in-ground lifts, parallelogram lifts, half-scissors and the innovative axle-engaging, in-ground, scissor-style heavy duty hydraulic lift configuration. In the United States, under the leadership of Dr. DellAmore, Stertil-Koni USA, Inc. has achieved double-digit annual sales growth every year since its incorporation in Maryland in 1997. Today, the company is recognized as the leading provider of mobile lifts and the fastest growing heavy-duty lift company in North America. Stertil-Koni USA, is headquartered in a modern 25,000 square foot combined office and warehouse facility in Stevensville, Maryland and has a major manufacturing facility in Streator, Illinois. The company proudly guarantees to maintain 25 years parts and availability for all product models that it offers for sale.