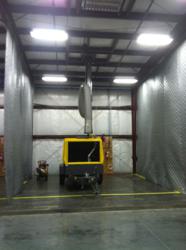 I said, "Wow, these compressors are way too loud. You're not going to muffle that amount of noise without moving to a specific sound barrier curtain."
Greensboro, North Carolina (PRWEB) May 09, 2012
Carolina Material Handling has recently completed an industrial curtains project at Atlas Copco's manufacturing facility in Rock Hill, South Carolina. An addition had been built to test compressors, and they were seeking to have industrial curtains installed to muffle the sound and allow the staff to wash the compressors after testing.
Atlas Copco called in regional sales manager Glenn Adams, who handles the Carolina Material Handling accounts in South Carolina, based on an established relationship the two companies have. The client was originally looking to simply install wash down curtains. Adams offered a more customized solution.
He recalls, "When I went through the facility, I said, 'Wow, these compressors are way too loud. You're not going to muffle that amount of noise without moving to a specific sound barrier curtain.'"
Safety and locating a suitable industrial curtain solution were priorities for Adams as he toured the facility. "I listened to how, even with just a smaller compressor running, you couldn't hear each other talk. I understood right away that it was going to be even louder than it was already."
The client shared that the new compressors would be twice the size. As a result, Adams recommended that they change the specifications of the job altogether. He reached out to Goff's Enterprises, who manufactures industrial sound barrier curtains. They suggested specific sound barrier panel curtains. "We got the client a prototype, a sample of it, and from there we moved right along."
Each bay consisted of 6 curtains extending 20 feet to the roof. The installation staff customized the application to accommodate the slope of the roofline, which comes down from 20 foot to 15 foot, meeting in the center. They mounted the industrial curtains to the I-beams and then custom cut them to fit the slope of the roof truss. This customization allowed the curtains to fit flush with the floor.
The installation team worked tirelessly in a single day—from early in the morning until nearly midnight—in order to ensure that the project was completed in time for the ribbon-cutting ceremony for the new compressor and the new facility to be held on the following day.
About Carolina Material Handling
Carolina Material Handling, Inc. has evolved from a few hand-trucks and a dream to a complete dealership with over 5,000 material handling products in stock; from one salesperson to a total of ten experienced material handling experts serving Georgia, North Carolina, South Carolina, and Virginia; and from offering simple material handling solutions to complete engineered systems. Learn more about Carolina Material Handling at http://cmh-inc.com. Their GSA Schedule Contract number is GS-07F-0392X.