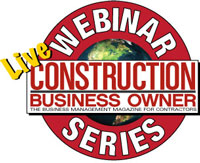 Birmingham, AL (PRWEB) May 09, 2012
Contractors in today's marketplace are caught in the middle of a paper and paperless culture. Managing this information overload can be difficult. Many contractors haven't taken advantage of digital document solutions, and the ones that have are still dealing with high volumes of data. This places a strain on operational efficiencies. With so many sources of information, it's never been more important to take charge and develop a business information plan.
In this webinar, you will learn how to:

Manage the influx of standard mail, email, faxes, e-faxes, contracts, etc.
Standardize multiple forms of documentation
Improve collaboration
Promote inner-departmental communication between the field and back office
Safeguard against possible future litigation
Increase overall project visibility with current and past jobs
Register today!
Live Event is on June 21, 2012 at 1 p.m. Eastern.
About the Speakers
Tim Gray is the market development manager for Viewpoint Construction Software's Western Region. Gray has more than 22 years of professional accounting experience with a construction industry focus since 1998. He obtained his CPA while working with Ernst & Young and PricewaterhouseCoopers.
Kathleen Schneider is the president of Richman Knoll Associates. She specializes in assisting employers with fixed cost and risk reduction strategies through the adoption of technology, paperless environments, labor cost restructuring and contracting non-essential administrative services. With 20 years of experience as a company officer for a third-party administrator, SRC, an Aetna Company, Schneider understands the challenges business owners face to increase profitability and streamline operations in this complex contracting environment.
About Construction Business Owner
As the leading construction business management resource for contractors and the building industry, Construction Business Owner, offers articles from industry experts on some of the following subjects: construction software, construction accounting, marketing a construction company, green building, construction safety, construction law, workforce solutions, construction insurance, risk management, construction regulations, jobsite security and equipment management.
About Cahaba Media Group
Founded in 2002, Cahaba Media Group is an independent and entrepreneurially-driven publishing company based in Birmingham, Ala. The company publishes five industry trade magazines (Pumps & Systems, Construction Business Owner, Upstream Pumping Solutions, HomeCare and Senior Care Products), five industry websites, several electronic newsletters and other ancillary products. http://www.cahabamedia.com