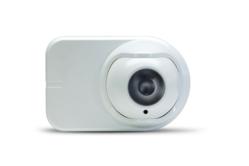 We're delighted to see OSID awarded the prestigious 2012 Poznań International Fair Gold Medal. An award of this stature highlights the technical innovation, quality, and design of OSID
Norwell, MA (PRWEB) May 09, 2012
OSID, the open air smoke imaging detector from Xtralis, was recently named the winner of the prestigious 2012 Poznań International Fair Gold Medal, one of the most recognized awards in the Polish and central European markets. OSID was among a number of fire and security products entered in the competition at the 19th edition of Securex International Security Fair, held April 23-26th in Poznań, Poland. The award is the 11th won by Xtralis worldwide in recent years and the sixth for OSID since its debut in 2010.
Recipients of the Gold Medal must display outstanding virtues of modernity of applied solutions in relation to world challenges. Winning entries must demonstrate a degree of innovation, economical factors, environmental impact, functional quality and aesthetical quality.
"We're delighted to see OSID awarded the prestigious 2012 Poznań International Fair Gold Medal," commented John DeBlonde, OSID Product Line Director for Xtralis. "An award of this stature highlights the technical innovation, quality, and design of OSID. While objective, juried competitions like this validate our approach to product design, what we really love is the wide acceptance of OSID by our customers. They use OSID in a wide range of open air smoke detection applications, like atrium, warehouses, and retail shopping. OSID has technically superior features when compared to standard beam approaches, and customers also benefit with easy installation, minimal maintenance, and lower total cost of ownership (TCO). Our customers really think it's a winner too," DeBlonde added.
Xtralis will be demonstrating OSID and other life safety and security solutions at IFSEC International 2012 at the NEC in Birmingham, UK. Stop by Hall 5, booth 5/C70 to see the OSID in action. To learn more about the award-winning OSID, go to http://www.xtralis.com/OSID.
About Xtralis
Xtralis™ is the leading global provider of powerful solutions for the early detection of fire, gas and security threats. Our technologies prevent disasters by giving users time to respond before life, critical infrastructure or business continuity is compromised. We protect high-value and irreplaceable assets belonging to the world's top governments and businesses. Our brands include VESDA® – the world's No.1 very early warning aspirating smoke detection (ASD) systems; ICAM™ for flexible ASD; ECO™ – Gas detection & environmental monitoring modules for VESDA & ICAM systems; OSID – easy to use smoke detection for open areas; ADPRO® –passive infrared sensors, perimeter, multi-site, and enterprise security; and, ASIM™ – intelligent traffic detection. To learn more, please visit us at http://www.xtralis.com.
Media Contact
Frederick Koons
Corporate Communications Director
fkoons(at)xtralis(dot)com
1 (610) 439-1946