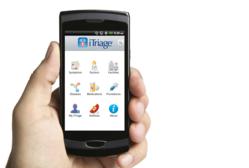 Bleckley Memorial Hospital is committed to providing our community with the latest technology and resources when they have a need for health care information and access to care
Cochran, GA and Denver, CO (PRWEB) May 10, 2012
In an effort to connect the community to immediate health care information and access, Schumacher Group, the nation's third largest emergency and hospital medicine management firm, has brought iTriage® to Bleckley Memorial Hospital.
iTriage is a free mobile health care app and website that helps people answer the two most common medical questions: What could be wrong? and Where should I seek treatment?
Two ER physicians created iTriage to help patients learn more about their symptoms, diseases, medical procedures and medications, and then be directed to the closest medical provider anywhere in the country. iTriage is available as a free download from app stores for iPhone® and Android™ phones, and is also accessible from any Internet-enabled device at http://www.iTriageHealth.com.
As a free resource to the community, iTriage lets residents in Cochran and nearby communities find detailed information about Bleckley Memorial Hospital like services, specialties, hours and directions. iTriage also lets users find information about:

Symptoms
Diseases
Medical Procedures
Medications
Health news and alerts
A nationwide database of every medical provider in the country
"Bleckley Memorial Hospital is committed to providing our community with the latest technology and resources when they have a need for health care information and access to care," said Alaina Dykes, ER Director, Bleckley Memorial Hospital. "iTriage helps us connect with patients when they have an immediate medical need."
About Bleckley Memorial Hospital
Bleckley Memorial Hospital is a 25-bed community medical facility located at 145 East Peacock Street in Cochran. It is a government run critical access hospital that is fully accredited and provides emergency services to the residents of Cochran and nearby areas of Bleckley. For more information, please contact (478) 934-6211.
About iTriage, LLC
iTriage LLC, headquartered in Denver, Colorado, is a global health care technology company founded in 2008 by two emergency medicine physicians. The company's market-leading platform and mobile/Web applications offer a proprietary Symptom-to-Provider™ pathway that empowers consumers to make better health care decisions. iTriage helps people answer the two most common medical questions: "What could be wrong?" and "Where should I go for treatment?" Millions of consumers around the globe have downloaded the free iTriage mobile app on their iPhone and Android devices, and thousands of health care providers use iTriage to reach and communicate critical facility and service information to patients. For more information, please visit http://about.iTriageHealth.com.