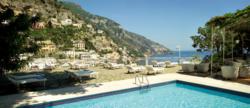 The reception and the personnel politeness help to create a warm and familiar atmosphere allowing our guests to feel at home.
Miami, Florida (PRWEB) May 09, 2012
The Hotel Poseidon takes luxury and majestic views to a whole new level. Vacationers who are looking for that perfect get away that combines rest and relaxation with love and romance are now able to experience what this resort on the Mediterranean coast has to offer.
The Hotel Poseidon, once a beautiful Mediterranean villa in the heart of Positano, is today a hotel in a green area overlooking the "vertical village" and the Amalfi Coast, one of the most beautiful and picturesque places of the world.
"The Poseidon has offered for 50 years, thanks to the Aonzo family's daily commitment, a discreet and elegant hospitality, in harmony with Positano's image and tradition: a privileged place where to experience the charm of Positano, that has attracted for more than a hundred years, and still does, artists from all over the world, for which the Poseidon organizes sometimes exhibitions, retrospectives and literary shows too."
Read more at: hotelposeidonpostiano.it
A representative of BillionairesBunker.com says that Rich Italian traditional and the beauty of this seaside resort will not only provide the rest and relaxation that guests deserve but will also provide one of the most romantic experiences that Italy has to offer.
The history and traditional of this Mediterranean gem speaks for itself but the Hotel Poseidon Postiano has so much more to offer. The coastal towns that line the cliffs below take guests back to a more simple time in the past that time forget. When it comes to luxury and romance, the Hotel Poseidon Postiano has spared no expense.
Learn more at:BillionairesBunker.com