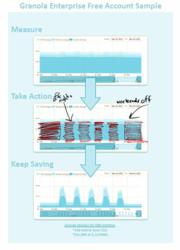 Granola Enterprise is a cost- and risk-free alternative to expensive power measurement hardware or consulting firms.
Blacksburg, VA (PRWEB) May 10, 2012
The Obama administration's executive order No. 13514 now requires federal agencies "to measure, manage, and reduce greenhouse gas emissions toward agency-defined targets." State governments and large corporations have followed suit by issuing their own green mandates and looking for ways to reduce energy waste in times where budgets are tight. Granola Enterprise power management software (http://grano.la) is being used by a growing number of these organizations as a cost- and risk-free alternative to expensive power measurement hardware or consulting firms.
Measuring power for IT can be cost-prohibitive to an organization. Meters for measurement run hundreds of dollars per system and require additional software to aggregate power usage. Existing software solutions require installation of a full software stack in-house and often need days to weeks to gain insight to current power use. Using only software, Granola Enterprise starts accurately measuring IT power in minutes and within 24 hours the energy footprint for an organization is displayed in an account accessible by web browser.
Sergi Sales of Polytechnic University of Catalonia (UC) oversees the use of thousands of PCs and servers across a diverse population of students, faculty and staff. When his organization was looking for ways to identify and reduce IT energy waste to support Spanish sustainability initiatives, they turned to Granola Enterprise. "Granola Enterprise provides our university with a concise energy footprint and cost analysis of all the IT equipment across campus," according to Sales. He adds that the add-on power management software tools available for purchase give him the flexibility to implement a comprehensive IT sustainability plan that cuts energy waste and costs.
MiserWare CEO Kirk Cameron thinks the reporting benefits of Granola Enterprise are particularly appealing to university and government clients such as the National Geospatial-Intelligence Agency. "Our software helps customers quickly and accurately audit their energy use across all of their PCs, servers, and laptops," says Cameron, who co-founded the company spin-out from Virginia Tech. "This makes it easy to identify energy waste and evaluate power management options." For more information or to sign-up for a free Granola Enterprise account, visit http://grano.la .
MiserWare, Inc. is a leading provider of Green IT power management software for servers, PCs, and laptops running Windows, Linux and VMware. MiserWare's Granola Enterprise helps organizations identify and eliminate energy waste in their computers. MiserWare also built the world's most popular free power management software: Granola Personal. MiserWare's Granola products have been listed on TIME Magazine's Top 20 Green Tech Ideas and PC Magazine's Best Free Software and received a CNET Editor's Rating of 4.5 stars (out of 5).