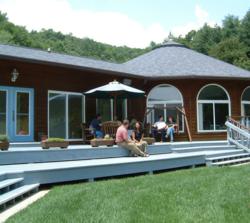 Horse Shoe, NC (PRWEB) May 09, 2012
Experts from Four Circles Recovery Center, an innovative addictions, substance abuse and co-occurring mental health disorders treatment program for young adults ages 18 to 28, are set to lead a three-day seminar at the 26th Annual ADDICTION: Focus on Women (AFOW) Conference. The AFOW conference runs from May 15-18, 2012 at the Kanuga Conference Center in Hendersonville, North Carolina.
Four Circles' Clinical Director Heather Schnoebelen, MS, LPC, LCAS, and Program Director Dr. Melanie Weis, PhD, LPC, LCAS-P, NCC, will be presenting "Out of the Chair and Into the Wild: An Experiential Approach to Systems and Addictions Work" at the conference.
The theme of the 2012 AFOW Conference is "SHE: Self-determination. Help. Empowerment." The conference is designed for professionals who work with women and families in the fields of substance abuse, mental health, criminal justice, human services, healthcare and related professions.
"I love this work because it allows me to combine my love for the magic and beauty of the natural world with my passion for the magic and beauty of the human spirit," said Schnoebelen. "I have devoted myself to this work because I am honored enough to work with and witness people aspiring to grow and change and I cannot imagine a more perfect job."
As the title of Four Circles seminar indicates, "Out of the Chair" attendees won't be passive recipients of information about concrete methods for working with families and groups who are struggling with addiction-related issues. Instead, they will have the opportunity to experience the healing power of nature and adventure-based counseling for themselves by completing some of the therapeutic outdoor activities that have proved so beneficial to patients and families at Four Circles.
"Through these activities, families learn new ways of interacting with each other," said Dr. Weis. "With these workshops, it's all about asking families to get out of their comfort zone. We engage in activities that encourage them to be uncomfortable in order to address the problems that they've been dealing with."
According to Four Circles Executive Director Jack Kline, MS, LPC, LCAS, CCS, Schnoebelen and Dr. Weis are particularly well-suited to teach other professionals about wilderness-based treatment for women.
"We have the nation's premier young adult drug and alcohol treatment program, and we have the only program in the nation that provides wilderness therapy to young women who are struggling with substance abuse," said Kline. "Heather and Melanie's leadership ensures that Four Circles is a clinically sophisticated and emotionally safe environment where women can deal with the issues that are specific to their unique situations."
Schnoebelen holds a master's degree in Transpersonal Counseling Psychology with an emphasis in Wilderness Therapy from Naropa University, and has been working with adolescents and families in the wilderness for more than 10 years. Her focus has been on addictions, depression, anxiety, self-esteem issues, gender identity issues, oppositional behavior, and conduct disorder with adolescents and young adults.
Dr. Weis, who joined the Four Circles team two years ago, has a wealth of professional experience working with children, adolescents and adults on issues of grief and loss, domestic violence, addictions, anxiety, low self-esteem, trauma, and depression. Prior to becoming a part of the Four Circles family, she was in private practice counseling adults and couples.
Four Circles Recovery Center is an innovative addictions, substance abuse and co-occurring mental health disorders treatment program for young adults ages 18 to 28 that combines a traditional counseling setting with a series of wilderness expeditions. Four Circles employs the most effective, cutting-edge clinical modalities with an underlying traditional 12-Step philosophy to create the foundation for sustained recovery.
Four Circles Recovery Center is a program of Aspen Education Group, the nation's leading provider of therapeutic education programs for struggling or underachieving young people. Aspen's services range from short-term intervention programs to residential treatment, and include a variety of therapeutic settings such as boarding schools, outdoor behavioral health programs and special needs summer camps, allowing professionals and families the opportunity to choose the best setting to meet a student's unique academic and emotional needs. Aspen Education Group is a member of CRC Health Group, the most comprehensive network of specialized behavioral care services in the nation. Since 1995, CRC Health has been achieving successful outcomes for individuals and families.