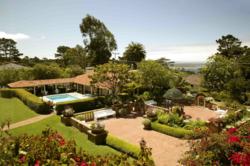 Under the careful stewardship of Grossman Company Properties and Classic Hotels and Resorts, La Playa has been thoughtfully renovated and modernized, with no detail overlooked, positioning the hotel for success for the next 100 years.
Carmel-by-the-Sea, CA (PRWEB) May 09, 2012
La Playa Carmel, Carmel-by-the-Sea's newest luxury boutique hotel is also one of its oldest, most cherished landmarks, harkening back to the hamlet's heritage as an affluent artists community. Originally built in 1905 by California landscape artist Christian Jorgenson as a gift for his wife, La Playa has enjoyed a long and beloved history as the Grand Dame of the scenic seaside community, ensconced in a celebrated residential neighborhood, just two charming blocks from the center of town and the beach, and close to several desirable Carmel, CA restaurants. The mansion was converted into a hotel in 1916 and has remained a Monterey romantic getaway for the past century. Now, under the careful stewardship of Grossman Company Properties and Classic Hotels & Resorts, La Playa has been thoughtfully renovated and modernized, with no detail overlooked, positioning the hotel for success for the next 100 years.
When La Playa Carmel opens its doors in August 2012 after a multi-million dollar renovation, loyal guests will find all of the original old-California charm intact, but will instantly notice many upgrades. The Lobby, Library, Bar and Lounge and each of the 75 guest rooms have been transformed with new contemporary coastal style. In addition to the chic guestroom décor with crisp white paint, plantation shutters, pillow-top mattresses and a fresh citrus color palette, guests will also enjoy completely renovated bathrooms. Some of the best upgrades are the ones you only notice if they are missing, such as new plumbing, electrical and state-of-the-art soundproofing, fast-forwarding the Grand Dame 100 years.
"It has been our privilege and passion to transform La Playa Carmel and restore a century of Carmel tradition," said Matt Crow, CEO of Classic Hotels & Resorts. "When you are working with a storied property, one that means so much to the legacy guests and the community of Carmel, you have to exceed all expectations and most importantly, retain the soul of the place. Classic Hotels & Resorts has a strong record of restoring properties to their previous grandeur, most notably with the restoration of the Arizona Biltmore, and we look forward to building on this legacy with La Playa Carmel"
Well known for it's beautiful ocean, estate and garden views, La Playa Carmel has been a central player in the story of Carmel. Generations have celebrated weddings and special events on the stunning grounds. Couples have honeymooned and gotten away from it all. Companies have held retreats and meetings, inspired by the creative legacy and natural beauty of the surroundings. Steve Jobs even held some of Apple's early retreats at La Playa Carmel as they were developing the first Macintosh. All of these traditions will continue in the new life of La Playa Carmel.
The Central Coast-area surrounding Carmel is known worldwide for its beautiful, rugged coastline dotted with cypress and pine, internationally-renowned golf courses, quality art galleries and boutiques, beaches, fine restaurants and famed wineries. La Playa Carmel is an ideal home base from which to explore the region. For local jaunts, the hotel will have bicycles available for hotel guests to explore the enchanting surrounding neighborhood. After a short drive, guests can find themselves on the links at Pebble Beach, at the Heller Estate Winery in Carmel Valley, at the Monterey Bay Aquarium or at a breathtaking viewpoint on Big Sur's dramatic coastline. Many guests enjoy ending a day of leisure, celebrations or meetings at La Playa's cozy Bar and Lounge, where classic drinks and a menu of light fare are served throughout the day and evening.
Mary Crowe has been tapped as La Playa Carmel's general manager and will lead the staff with warm, professional service and thoughtful attention to all travelers. In her previous position as general manager of Villagio Inn & Spa in Napa Valley, Crowe worked with a similar clientele traveling to California's best locations to savor the good life of art, fine wine and food and the region's natural beauty.
One of the new additions to enhance the La Playa Carmel experience will be a Signature Champagne Breakfast Buffett served overlooking tranquil garden and ocean views to all guests, included with their room rate. This will provide an ideal gathering spot for guests as they plan out their day of activities enjoying the sights of Carmel and the surrounding area.
La Playa Carmel is accepting reservations for weddings, meetings and leisure guests for stays beginning August 1, 2012. Rates begin at $249 per night, including full Champagne Breakfast Buffet. To make reservations, please call 800-582-8900 or visit http://www.laplayahotel.com.
About Classic Hotels:
La Playa Carmel is managed by Classic Hotels & Resorts (CHR), an affiliate of Grossman Company Properties (GCP). GCP is one of the premier commercial and residential developers in the Western United States. During the past 50 years, GCP has built, developed and managed more than 14 million square feet of high-quality properties, including Arizona Biltmore Resort & Spa, Biltmore Fashion Park, Inn at Laguna Beach and the Phoenix Spectrum Mall. Additional information is available at http://www.classichotels.com.