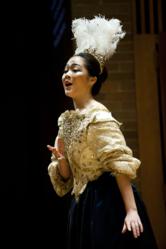 (PRWEB) May 10, 2012
Cambridge, MA: Tickets for Longy School of Music of Bard College's Longy En Voyage Gala are now available for purchase at http://www.longy.edu. The Gala, scheduled for Tuesday, May 29, at the John Joseph Moakley Courthouse on Boston's waterfront, will open with a cocktail reception at 6:30, followed by dinner, a live auction, and dancing.
The Gala program will include remarks from Bard President Leon Botstein, as well as performances by Longy students, faculty, and a special performance by mariachi students from Delano, California's Paramount Bard Academy (PBA). PBA, a charter school operated by Bard College, is the home of Longy's first El Sistema-inspired music education program for children.
The Bo Winiker Orchestra will close the evening with dancing.
Gala tickets range from $300--$600/person, with additional ticket packages available for corporate and individual sponsors. All proceeds from the Gala directly support Longy's scholarship and education programs.
Please call 617.876.0956 x1551 or visit longy.edu for tickets more information.
The Gala's planning committee includes community leaders J. David Wimberly (Honorary Gala Chair), Sandra Bakalar, Fern Beck, Mary-Catherine Deibel, D. Eliot Klein, and Patricia Ostrander.
Longy En Voyage is generously sponsored by Cambridge Trust.
About Longy School of Music of Bard College
Longy School of Music of Bard College was founded in 1915 as Longy School of Music by renowned oboist Georges Longy. A degree-granting Conservatory and school of Preparatory and Continuing Studies, Longy is located in Harvard Square in Cambridge, Massachusetts. Longy is led by Karen Zorn, who became the School's 10th President in 2007. The school serves 225 undergraduate and graduate students from 37 states and 21 countries, and nearly 1,000 children and adults from the Greater Boston area. For all students, Longy provides a distinguished faculty that promotes profound musical understanding and technical mastery, encourages growth of imagination, and fosters inquiry about the role of music and the musician in the larger world. With a curriculum rooted in the traditions of Western music, Longy's mission is to prepare musicians to make a difference in the world.
###