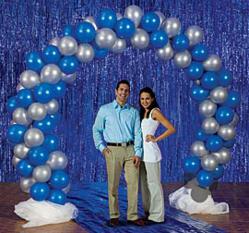 South Whitley, IN (PRWEB) May 08, 2012
More than half of all moves into homes and apartments occur between May and September, according to the National Association of Realtors. Tell your friends, family, and neighbors how much they mean to you during these warm months by hosting thoughtful going away parties.
"Going away stirs many emotions for the family leaving, as well as their friends staying behind," said Jacquie Downey, Director of Sales and Marketing at Shindigz.com, a leading national party supplies company. "Taking time to share and remember with a going away party helps everyone to celebrate and to prepare for the future."
Sometimes Simple Really is Best
Throwing the right going away party hinges on the taste, and the frame of mind of those who are leaving. There can be resistance to a going away party because it seems emotional. That's the time to suggest a casual backyard barbeque. Nothing about the party needs to be overly elaborate. Sharing the good times in a comfortable setting helps put everyone at ease. Personalized photo coasters are a fun way for everyone to remember the party.
Find Photo Opportunities to Capture Memories
You don't need to hire a professional photographer for the party. Simply ask one or more of the guests to take photos of everyone, making the memories last. Try to shoot photos of as many people at the party as possible. In addition to the candid moments, find a nice location to use as a photo area and encourage guests to take a fun portrait. Chances are that may be the shot that people frame and display in their homes, or on a social network. A balloon archway can look great for kids and grown-ups alike to pose near for pictures.
Record Going Away Best Wishes
With today's smartphones, it's never been simpler for guests to record their best wishes. After the party, upload them to YouTube™, or another video hosting site. If you don't want to share the thoughts with the entire world, just set the sharing setting for unlisted or private options.
"In our hectic summer lives, it's easy to let time slip away. Going away parties are a thoughtful gesture and will be remembered for years to come because they help protect friendships against the challenges that distance creates," said Downey.
About Shindigz
Since 1926, Shindigz has "made life more fun" for 22 million events through the manufacture and sale of personalized party supplies. It ships products from its facilities in South Whitley, Indiana across the United States, and around the world to 59 countries. With more than 36,000 products, the company provides customers with a complete party solution. For more information about Shindigz, go to http://www.shindigz.com.