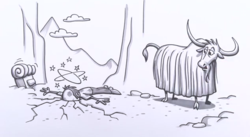 In fact according to a study on emotion, positive emotional items were remembered highest among the rest of details
Saint George, UT (PRWEB) May 10, 2012
When YDraw creates a video it keeps in mind the factors that create success in the field of online video marketing. YDraw incorporates creative and inspiring drawings, with organized ideas, into every piece of work. How does YDraw compare to other agencies? Take a look at this recently released video from a competitor "Whiteboard Animation," on Youtube.com.
Emotion creates motivation and most of all, allows viewers to more easily remember the material presented in a video. In fact according to a study on emotion, positive emotional items were remembered highest among the rest of details-1. Any of the examples on http://www.Ydraw.com could show successful uses of emotion.
Creativity is key! YDraw's videos are bright and detailed. They reinforce what the audio is saying and in all cases illustrate for a better understanding. What good is a video if it cannot hold attention?
The audience is the same with no matter which business is selected; the only difference is the quality of video. Trusting in a company that works very hard to make sure only the highest quality is put on the market for consumers to view, would be the smartest move by any investor.
Overall, the whiteboard Animation video is very well done and practical.
Ydraw specializes in whiteboard animation videos, and is now announcing their specialities in animation videos as well.
1- Schmidt, K. A. (2011). Emotion's influence on memory for spatial and temporal context. Cognition & Emotion, 25(2), 229-243.
Alecsy Christensen
Alex Metzger