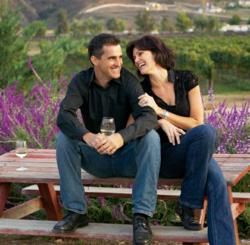 "This tour really has been created for Kim and me, and if others want to come along and enjoy the day with us then great – we'd love to have them," says John
Santa Barbara, CA (PRWEB) May 09, 2012
When John and Kim Kelliher, owners of The Grapeline Wine Country Shuttle, expanded their successful wine tour business to include the beautiful wineries in the Santa Barbara and Central Coast area, it wasn't just because of the great wine and atmosphere. It was also because of their love affair with Pinot Noir. While it may sound questionable to start a new business because of a passion for a particular varietal, it was a no-brainer for these two Pinot lovers.
Fast forward five years. Today, The Grapeline has earned over 250 Five-Star reviews on feedback sites like Yelp and TripAdvisor, and has hosted over 15,000 wine lovers in Santa Barbara County alone. But the one thing that hasn't happened was a tour that highlighted the Kellihers' favorite varietal: Pinot Noir. Until now.
"Pinot needs constant care and attention... it can only grow in these really specific, little tucked-away corners of the world. And only the most patient and nurturing of growers can do it, really. Only someone who really takes the time to understand pinot's potential can then coax it into its fullest expression." That's how Miles explained to Maya his appreciation of Pinot Noir's unique challenges – and its sublime incarnations – in the movie Sideways. Central Coast sales of Pinot Noir vaulted by 42% as the wine drinkers clamored to discover the inspiration for his musings.
The Sideways furor has subsided, but the popularity of this complex varietal remains. Pinot Noir from the Santa Barbara region is considered some of the best in the world. So on May 20, 2012, The Grapeline is offering the Pinot Lovers Tour – an entire day dedicated to sample 'the fullest expression' of this temperamental, thin-skinned grape that survives in select corners of the ocean-influenced microclimate in the Santa Rita Hills of Santa Barbara County.
"This tour really has been created for Kim and me, and if others want to come along and enjoy the day with us then great – we'd love to have them," says John. The Grapeline called in favors from several of the 'big guns' in the Central Coast Pinot Noir world to put together a Vineyard Picnic Tour with a decidedly Pinot twist. Reflecting their desire to start bringing more exclusive experiences to their customers to enhance their existing repertoire, this special day of Pinot Tasting is a part of their Signature Series. According to Kelliher, "The Signature Series consists of small tours where we go out and find the best things to do with the most interesting people in wine country, and put them all together for one special day." The Pinot Lovers Tour is the second Signature Series Tour and reflects The Grapeline's goal "to create a higher standard of wine country experiences."