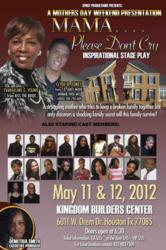 "Mama…Please Don't Cry, hits home because this is not just the story of one family but, of many families across our country,"
Houston, TX (PRWEB) May 09, 2012
"I didn't raise none of my kids to be this way!" says the distraught mother in the gospel musical stage play, Mama…Please Don't Cry! The play follows the struggles of one mother who is trying to keep her broken family together. She discovers a shocking secret that leads to a family tragedy. Can this family survive? Mama…Please Don't Cry, begins May 11 & 12, 2012, Crossing Community Church, 3225 W. Orem Dr., Houston, TX 77085, 7:00 pm, tickets available through Ticket Master and Ticket Web. http://www.ticketweb.com/t3/sale/SaleEventDetail?dispatch=loadSelectionData&eventId=4560655&pl=
It's very hard being a single mother in today's society. It's difficult just being a parent these days. Temptations abound for children and parents don't have any control over the paths they decide to take. All parents can do is their best to equip their kids with the tools they need in order to survive. Mama Please Don't Cry explores the plight of one mother doing the best she can for her children, only to see them go astray.
Executive producer and writer, Demetria Smith, does a fantastic job of weaving a profound story and teaching valuable lessons. "Mama…Please Don't Cry, hits home because this is not just the story of one family but, of many families across our country," says executive producer, Demetria Smith. "The audience will be able to relate to the characters."
With music by Mike Frazier, Gospel is used to relay the varying emotions of the tale and its characters until the very end. Gospel music has always been music from the soul. It has a way of telling a story all in itself.
Mama…Please Don't Cry introduces a multi-talented freshman cast lead by veteran actor, Clyde R. Jones best known for his role in the hit Eddie Murphy comedy, Coming to America. A compelling story told with great music, Mama…Please Don't Cry is one event that will give Houston audiences a true blessing. http://spiritproduction.org/