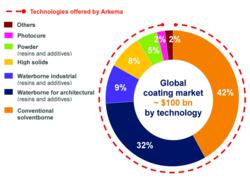 Our value proposition to the coatings industry will be clearly on display at the American Coatings Show 2012.
Indianapolis, IN (PRWEB) May 09, 2012
Visitors to the Arkema booth at the American Coatings Show 2012 will see significant growth in every aspect of the company's market offering, including products, technology, global reach and resources, and commitment to innovation and sustainability. The American Coatings Show 2012 marks the first opportunity in North America to showcase the breadth and depth of the company's coatings portfolio since Arkema completed the acquisition of the Cook Composites and Polymers, Cray Valley, and Sartomer coatings businesses from Total in 2011.
"Our value proposition to the coatings industry will be clearly on display at the American Coatings Show 2012," notes Richard D. Jenkins, global group president for Arkema Coating Resins. "That means helping customers get to market quickly with a product that employs the best technology for the application, that helps them manage raw material costs to optimize value, that helps meet their sustainability goals, and that can be replicated in markets around the world."
Arkema's technology base for coatings raw materials gives the company perhaps the broadest product portfolio among major suppliers.
Today, Arkema is ranked among the top suppliers of raw materials to coating formulators not only in the Americas, but in the world as well. The company is committed to strengthening that position. Coatings is a growing percentage of Arkema's revenue. In 2006, coatings raw materials represented three percent of the company's business. Last year, our overall revenue from coatings made across all of the company's business units reached 1.8 billion USD, or approximately 22 percent of total business.
Arkema points to several examples of how the significant growth in the company's product and technology portfolio is benefitting customers:

Helping reduce titanium dioxide (TiO2) consumption – by combining new CELOCOR™ opaque polymer from Arkema Coating Resins with COADIS™ dispersants from Arkema subsidiary Coatex, customers can improve hiding and lower TiO2 levels in architectural coatings.
More choice in binders for Cool Roof Coatings – Arkema Coating Resins and the Kynar® Fluoropolymers business have worked together to develop the new Arkema AC system for cool roof coatings. For the first time, formulators will be able to utilize a complementary set of raw materials from one supplier to offer a range of cool roof coatings, from high value to high performance, to meet their customer's needs.
Visitors will also be able to review the company's significant commitment to sustainable formulating. In the coatings market, Arkema is focusing on helping customers meet their goals in three areas:

Improving coatings performance while reducing volatile organic compound (VOC) levels in the customer's formulated products.
Reducing the use of hazardous materials in both raw materials and formulated products.
Supporting sustainable manufacturing in both the customer's and Arkema's facilities.
The company points to the highly successful EnVia®1 certification program, first introduced by Arkema Coating Resins in North America, as an example of its proactive approach to sustainability. The program will be expanded to other Arkema businesses and geographies. Most recently, subsidiary Coatex has announced that the majority of its rheology modifiers and additives for aqueous coating systems are now EnVia® certified.
Products and technologies from Arkema that will be on display include:

Coating Resins – including waterborne and solventborne resins, and resins for powder coatings
Rheology modifiers and additives, including Coatex thickeners and dispersants for aqueous systems, and Crayvallac® additives for non-aqueous systems
Kynar® fluoropolymer resins, including Kynar 500® FSF® and Kynar Aquatec®
Sartomer specialty acrylate and methacrylate monomers and oligomers for low VOC, cure-in-place coatings
Celocor™ Opaque Polymers for improved hiding and TiO2 reduction
•Fascat® Catalysts

Rilsan® and Orgasol® technical polymers for enhanced performance properties
Siliporite® molecular sieve powder desiccants for polyurethane systems
Reverlink® NoVoc - Non-volatile neutralizing co-dispersing agent for ultra-low VOC formulations
DMSO EVOL® non-toxic apriotic polar solvent to replace methylene chloride and N-methyl pyrrolidone in paint stripper formulations
1 Products that display the EnVia® trade name have passed our rigorous certification program. EnVia® certified products may assist formulators in meeting their sustainability and regulatory goals in their finished products.
About Arkema:
A global chemical company and France's leading chemicals producer, Arkema is building the future of the chemical industry every day. Deploying a responsible, innovation-based approach, we produce state-of-the-art specialty chemicals that provide customers with practical solutions to such challenges as climate change, access to drinking water, the future of energy, fossil fuel preservation and the need for lighter materials. With operations in more than 40 countries, approximately 13,200 employees and 9 research centers, Arkema generates annual revenue of $8.2 billion* and holds leadership positions in all of its markets with a portfolio of internationally recognized brands. The world is our inspiration.
*Turnover and headcount of continuing operations, excluding Vinyl Products activities subject to divestment project.
Celocor™ is a trademark and Kynar®, Kynar 500®, FSF®, Kynar Aquatec®, EnVia®, Crayvallac®, Rilsan®, Orgasol®, Fascat®, Reverlink® and Evol® are registered trademarks of Arkema
Siliporite® is a registered trademark of CECA
Coadis® is a registered trademark of Coatex SAS
Crayvallac® is a registered trademark of Cray Valley