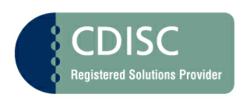 We strongly believe that adopting clinical standards is essential for pharmaceutical companies to address the challenging environment and face the increasing complexity and cost of managing clinical trials
Sunnyvale, CA (PRWEB) May 10, 2012
Clinovo announces that they have reached over 500 downloads of CDISC Express, the first open source SAS®-based system that automatically converts clinical data into CDISC SDTM. Clinovo freely distributes CDISC Express, with user-friendly learning tools and a dedicated support system.
Since its launch one year ago at the annual 2011 PharmaSUG conference in Nashville TN, over 500 industry professionals have downloaded CDISC Express, including experts from Roche, Amgen, Novartis, Merck, Johnson & Johnson, the Food and Drug Administration (FDA), the SAS institute, as well as successful smaller companies.
"CDISC Express is the result of many years of innovative thinking. It was designed to facilitate and accelerate FDA submission and FDA review", says Ale Gicqueau, President and CEO at Clinovo. "We strongly believe that adopting clinical standards is essential for pharmaceutical companies to address the challenging environment and face the increasing complexity and cost of managing clinical trials."
To celebrate this milestone, Clinovo offered a Kindle to Rajeev Karanam, Manager of Statistical Programming at Gilead, the 500th person to download the eClinical system.
"CDISC Express is the best tool that could turn mapping SDTM an easy, straightforward work with high efficiency, reliability and accuracy. It saves time and increases data quality", explains Chunmao Wang, a clinical statistical programmer at National Institutes of Health.
CDISC Express is the leading open source CDISC conversion solution in the marketplace. By giving the source code to the large community of SAS programmers, Clinovo reaffirmed its dedication to global clinical standards that contribute to streamline clinical trials.
Benefits of using clinical data standards include improved data quality, streamlined clinical data storage and exchange and faster FDA review. As a CDISC Gold Member, Clinovo has continuously worked on raising awareness, education and expertise on CDISC standards throughout the industry. Clinovo was recognized with the official status of CDISC® Registered Solutions Provider by the Clinical Data Interchange Standards Consortium (CDISC) organization for its valuable CDISC service offer to pharmaceutical companies.
Clinovo CDISC services include full clinical study mapping to SDTM, CDASH and ADaM implementation, CDISC conversion from any clinical database, submission review, and advanced training. Clinovo is the only contract research organization (CRO) to offer different service packages to meet the different needs of the pharmaceutical industry: a BASE package that includes mapping 4 domains, a PRO package that includes mapping 12 domains and an ENTREPRISE package including mapping 20 domains.
About CDISC Express
CDISC Express is a powerful open source SAS®-based clinical data management system that automatically converts clinical data into CDISC SDTM using an Excel framework.
About Clinovo
Clinovo partners with life science companies to streamline their clinical trials, leveraging years of expertise in systems integration, open source technology and industry standards. Clinovo provides Staffing Solutions, eClinical Systems and Biometrics Services including Clinical Data Management, Electronic Data Capture, CDISC Mapping and SAS Programming.
About CDISC
CDISC is a global, open, multidisciplinary, non-profit organization that has established standards to support the acquisition, exchange, submission and archive of clinical research data and metadata. The CDISC mission is to develop and support global, platform-independent data standards that enable information system interoperability to improve medical research and related areas of healthcare.