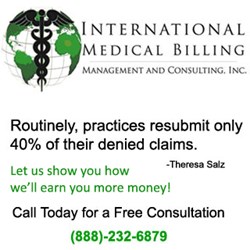 (PRWEB) May 10, 2012
In a landscape of outdated medical billing services, one medical billing company is redefining medical billing best-practices.
"Of all claims rejected by Medicare," states President of IMB Theresa Salz, "57% are due to mistakes in coding. 27% are due to the lack of enough clinical documentation sufficient to force an appeal; and routinely, practices resubmit only 40% of their denied insurance claims –a needless loss of income that's directly related to the inefficiencies of outdated billing software and antiquated billing practices."
The forced adoption of Electronic Medical Records (EMR) by Medicare, along with ever tightening compliance regulations, and looming changes of ICD-10 procedure coding, all amount to monumental change within the medical billing industry. "Increasingly, doctors are letting experts handle their billing, to increase income and reduce liability," says Salz.
"When we learned about the increased cash flow benefits of International Medical Billing, we discontinued our relationship with our old billing service," states Dr. Nelson A. Hernandez who's been practicing Psychiatry in the Cape Coral / Punta Gorda, FL area for over 23 years. "We selected IMB for several reasons: They have an excellent reputation among the provider community, their thoroughness in working our accounts consistently delivers superior collection outcomes, and their dedication to customer service is a welcomed benefit in a world of disappearing customer service."
Dr. Bridget Jean Keller who has been practicing Neurology in Sarasota, FL for the last 11 years states: "I originally sought out International Medical Billing because of their reputation in the medical community. IMB offers the customer service, knowledge, workflow improvement, and newer technology that gives us the edge we need in a very challenging payer reimbursement world. Our collections have improved markedly since our transition to International Medical Billing."
"We are pleased to have these well established medical practices join us as clients," says Salz. The medical billing process is far more complicated than it used to be, and International Medical Billing is well positioned to attract medical practices desiring to disconnect from the old outdated medical billing service model. We offer a new and innovative approach to medical billing that merges the right mix of advanced technology, work flow efficiency, coding expertise, and a focused-attention to customer service".
About IMB
International Medical Billing is a leading edge Medical Billing and Practice Management Consulting Firm that offers comprehensive medical billing services which include the free use of advanced medical Practice Management software. Having served the medical community for 15 years, IMB stands out against a marketplace of dated, expensive, and ineffective billing services. IMB's objective is to increase provider revenue through a unique approach of office operational improvements, best-in-class medical billing services, cutting edge medical billing software, and advanced EMR technology.
Theresa Salz can be contacted for Medical Billing Service Consultation inquires at (866)-612-1258, or by email at: relations(at)intmedbilling(dot)com. Website: http://www.intmedbilling.com