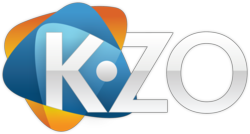 ...most video sites are primarily focused on video hobbyists, which doesn't help Enterprise Video Professionals.
RESTON, Va (PRWEB) May 09, 2012
KZO Innovations, the industry leader in collaborative business video and eLearning, announces their sponsorship of a new website dedicated to the development of Enterprise Video Professionals, Streaming Video Platform.
Leading this effort is Jeff Fissel, Vice President, Solutions and Co-Founder of KZO Innovations.
"Our enterprise video customers are constantly asking us and in-search of a central place to communicate and share ideas," said Jeff Fissel. "Currently, most video sites are primarily focused on video hobbyists, which doesn't help Enterprise Video Professionals. The solution, find and support a site that does."
Streaming Video Platform is open to anyone in any company both large and small with an interest in sharing experiences while learning more about enterprise video.
Currently the site is segmented into 4 categories:

Enterprise Video 101, where you can brush up on the basics of streaming video across the enterprise.
How To's/Tips, here you find shorts posts of how to use and leverage new tools and best practices to go along with each.
Enterprise Video Security, a section where we will provide information around how to maintain different levels of security around any video content and share best practices.
Question Repository, where any users can ask questions, and experts and other users will respond in a community format.
About KZO Innovations, Inc.
KZO Innovations is the leading provider of social collaboration software for business and eLearning video. The KZO Business Video Suite is being used by Fortune 500 companies and government agencies to securely "Create" or upload video from any computer, "Share" video within any CRM, LMS, web portal or as a stand-alone video portal, and "Socialize" video by engaging viewers - letting them add comments, ask questions and get answers. KZO's interoperability with leading collaboration portals and learning management systems, including Salesforce and SharePoint, enables organizations to securely leverage the power of video with live and on-demand collaboration within a workgroup or across their entire global enterprise. The Suite consists of three integrated components that are compatible with major video formats including Flash and HTML5: KZO Virtual Studio, KZO Video Library and KZO Media Player.
A free trial of the KZO Business Suite is available at KZO Innovations
Enterprise Video Professionals, Visit Streaming Video Platform