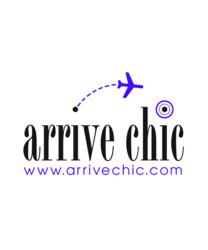 "It's time for travelers to plan a chic summer vacation," notes Ashley Vaccarino. "Whether a tropical vacation or a tour of Europe is on the horizon, ArriveChic.com has the perfect travel accessories to keep women looking fabulous."
(PRWEB) May 10, 2012
Arrive Chic, the hottest trend in modern travel necessities and designer travel bags, is proud to feature top name brands as part of its summer collection. Big names including Marvis, Supergoop!, Trina Turk, Felix Rey and Jonathan Adler are now available to help keep summer travel in style.
"We are so proud to offer fashion-forward and modern travel gear from some of the top names in the industry," says owner Ashley Vaccarino. "No one should sacrifice style while traveling!"
Featuring an elegant design, the Arrive Chic e-commerce site offers a variety of travel essentials, all with a flare of style. Arrive Chic offers luggage, travel bags, beauty products, accessories and gifts. The designer travel bags are available in many sizes and colors to fit the needs of every traveler.
"It's time for travelers to plan a chic summer vacation," notes Ashley Vaccarino. "Whether a tropical vacation or a tour of Europe is on the horizon, ArriveChic.com has the perfect travel accessories to keep women looking fabulous."
For more information or to purchase luxury designer bags and travel gear visit ArriveChic.com. Follow or "like" Arrive Chic on Facebook, Twitter, and Pinterest.
About Arrive Chic
Arrive Chic (http://arrivechic.com) was born to provide one-stop online shopping for fashion-forward jet-setters. With a buying background from Barneys New York and Saks Fifth Avenue, and a fully stamped passport, owner Ashley Vaccarino saw this business as her calling. Arrive Chic offers designer travel bags from top designers including Trina Turk, Felix Rey and Jonathan Adler.
Unlike many other travel goods websites, Arrive Chic offers only stylish travel products, as they believe form is just as important as function. Travel handbags and accessories are obvious must-haves for any trip; but the true traveling diva needs to look fabulous head to toe, no matter where she is. Therefore, they also offer travel-friendly jewelry, beauty products, and (arriving soon) comfortable & chic shoes and clothing.