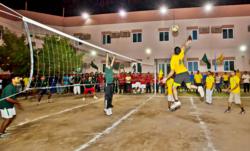 Pearl Fiesta 2012 to host games such as football, cricket, volleyball, basketball, carom, table tennis, badminton, and tug-of-war.
Dubai, United Arab Emirates (PRWEB) May 10, 2012
"Our annual Pearl Fiesta event serves as an avenue for each and every team member of Flora Group Hotels to showcase organizational and team building abilities, as well as unique talents. The tremendous growth seen by Flora Group in 2011 can be attributed to our highly motivated professional associates, who each enjoy working in an environment of mutual respect and trust. We are dedicating this year's celebration to our valued team members," said Mr. Mohamed Rafi, Chief Operating Officer of Flora Group of Hotels.
This year's event will bring together nearly 500 guests, representing the organization's diversity; several countries and nationalities will be represented. All employees across the group's properties, such as the Flora Grand Hotel, Flora Creek Deluxe Hotel Apartments, Flora Park Deluxe Hotel Apartments and other Flora Hotels, are invited to participate in this year's event. Guests, family members and friends of all Flora Group's employees are also invited to be a part of this year's celebrations.
Pearl Fiesta 2012 will host games such as football, cricket, volleyball, basketball, carom, table tennis, badminton, and tug-of-war. While each sporting event will certainly crown a victor, the events were chosen for their ability to encourage sportsmanship-like behaviours, foster a sense of community and ultimately, re-energize the organization's employees.
This gathering isn't just a sporting competition. In an effort to cater to their organization's broad spectrum of interests, the event will also showcase cultural and dance activities.
About Flora Group Hotels
The Flora Group of Hotels is a small, quality-driven collection of hotels and serviced apartments located within Dubai - one of the world's most modern and fastest growing cities.
Flora Group Hotels provides a wonderful choice, whether you are a discerning budget traveller, or in search of 5-star luxury. They have accommodation solution to suit your needs whether it is for leisure, business, a stopover or longer stays.
Their deluxe hotel apartments offer a choice of both full hotel service operations, as well as self-catering facilities. The extensive range of accommodation includes standard hotel rooms, deluxe hotel suites, studios, one, two and three bedroom suite apartments, royal suites, as well as executive and privilege floors.
All the group's hospitality establishments provide only the highest levels of comfortable quality accommodations and conference facilities and we are the perfect choice for your next city break, business meeting or special family occasion.