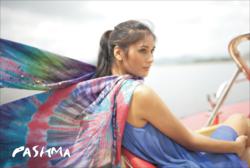 Pashma Cashmere works with all styles and budgets
San Francisco, CA (PRWEB) May 09, 2012
Pashma Cashmere, San Francisco's premier shop for cashmere shawls, silk dresses and cashmere sweaters, is currently offering tips for those who are having trouble finding a gift for Mother's Day.
"There are different things that you can do for your mom on Mother's Day: Take her out to dinner or plan a weekend getaway," Madhvi Pratt of Pashma Cashmere said. "For the special mom who takes care of everyone, Pashma has just the right gift to pamper her with."
Consider the following ideas:
1) For those taking their mother out to dinner, plan an elegant outfit for her by visiting Pashma Cashmere to choose evening wear that will make her feel fabulous.
2) For those planning weekend trips to Napa for wine tasting or a close by beach, Pashma Cashmere recently released resort wear for spring.
"Our resort wear includes long, lightweight, stylish dresses, as well as silk and cashmere blend T-shirts that define luxury, comfort and style," Neerja Raman said.
3) For practical gifts, consider a cashmere sweater or wrap to protect her against San Francisco's unpredictable weather.
"Pashma Cashmere works with all styles and budgets," Raman said. "Come to our shop for a stylist's consultation on your options for Mother's Day gifts. For about the same price as chocolates or a wine basket, give your mother a gift that lasts for ever."
For more information about Mother's Day gifts or any of Pashma Cashmere's products, call 415-854-0532, view the store on the web at http://www.pashmausa.com or visit 29 Maiden Lane in San Francisco.
About Pashma Cashmere
Pashma Cashmere is one of the leading clothing designers, manufacturers and retailers of luxury knitwear and made of cashmere and cashmere blends. All of its products imbibe the central elements of the value promise that has been the hallmark of its success--inherent artistic value, timeless appeal, outstanding quality, superior craftsmanship and exceptional value.
The store's products include women's dresses, cardigans, scarves, T-shirts, blouses, sweaters, shawls, wraps, leggings, hats, gloves and men's scarves.