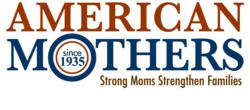 For nearly 80 years, we have recognized mothers who are courageous, bold, innovative, and creative. Balancing motherhood, career, and community is truly an art form. We're honored to celebrate Ruby and Carrie—vibrant women painting bold strokes on their
Washington, DC (PRWEB) May 08, 2012
American Mothers, Inc. announced Dr. Ruby Graves Cheves of Georgia as its 2012 National Mother of the Year® and Oklahoma's Carrie Leonard as National Young Mother of the Year at its annual convention in Washington, D.C. on May 5.
Since 1935, the American Mothers Committee (now American Mothers, Inc.) has bestowed a Mother of the Year ® award upon a mom who embodies the highest qualities of motherhood. Sarah Delano Roosevelt, mother of President Franklin D. Roosevelt, presented Lucy Keen Johnson of Georgia as the first American Mother of the Year ® in 1935 at the Waldorf Astoria in New York City. The organization celebrated its first Young Mother of the Year in 1968. Many outstanding individuals throughout America have served as officers, leaders, members, and supporters of this organization such as Sarah Delano Roosevelt, J.C. Penny, Mamie Eisenhower, Phyllis Marriott, Lindy Boggs, and Secretary of State Hillary Rodham Clinton, 1984 Arkansas Young Mother of the Year.
Born in Baton Rouge, Louisiana, Dr. Ruby Graves Cheves attended Northeast Louisiana University and matriculated to medical school at the Louisiana State University Medical Center. After choosing Obstetrics and Gynecology, she trained at the Greenville Hospital Systems in South Carolina. Married to Georgia native Dr. Harry Cheves, they moved to Georgia to practice and raise their two children, Alex and Rebecca. The family later moved to Zambia, Africa to serve as medical missionaries. Together, they founded the Global Samaritans Children's Home. Today, Dr. Cheves practices in Athens, Georgia, where she serves as medical director for a busy midwifery practice. She is the assistant clerkship director for OB/GYN at the University of Georgia Medical School.
Oklahoman Carrie Leonard learned the value of service at a young age. She and her husband, Ryan, are the proud parents of four children, Catherine, William, Matthew, and Mary Frances. Before becoming a mother, Carrie earned degrees at the University of Virginia and the University of Oklahoma College of Law. Over the years, she has given her time to Christ the King School, the Kennedy Center Theater for Young Audiences, Lyric Theatre, Friends of the Mansion, the Junior League of Oklahoma City, Girl Scouts, the Annie Oakley Society, and the American Heart Association. She has worked as the director of development for White Fields, a home for neglected and abused boys, practiced law, and been a stay-at-home mother.
Connell Branan, President of American Mothers, expressed admiration for the 2012 honorees. "For nearly 80 years, we have recognized mothers who are courageous, bold, innovative, and creative. Balancing motherhood, career, and community is truly an art form. We're honored to celebrate Ruby and Carrie—vibrant women painting bold strokes on their households, communities, and nation."
About American Mothers, Inc.
American Mothers, Inc. is a nonprofit organization for women and men who recognize the important role of motherhood through educational programs and community outreach. On an annual basis, American Mothers, Inc. selects the National Mother of the Year®, Young Mother of the Year, and Mothers of Achievement from candidates across the United States, the District of Columbia, and Puerto Rico. For more information about AMI, visit http://www.americanmothers.org or call 877-242-4264.