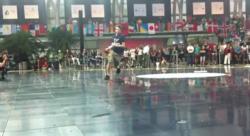 Keaton's talents far outreach his computer savvy. We are proud of his accomplishment on a world stage
(PRWEB) May 09, 2012
The Red Bull Paper Wings World Finals 2012 hosted the event in Salzburg, Austria for aerial paper plane combat. The event last occurred in 2006 and 2009, featuring the best paper plane flyers in the world. Many competitors returned, as the competition numbered an incredible 37,125 contestants, with only 249 contestants invited to travel to the event. The competition was limited to three championship titles, solidifying the highly competitive event in the Hangar-7 of Salzburg.
Mr. Wheeler placed 13th in the Aerobatics division, the "creative" category, using a unique ability to throw paper airplanes with interesting twists, turns and boomerang returns. The crowd enjoyed "Born in the USA," a well-known Bruce Springsteen hit, while Mr. Wheeler demonstrated his skills. This is Mr. Wheeler's second event, as he qualified to compete for the distance category in the 2009 competition, during which he placed 23rd.
The multi-talented Mr. Wheeler is the Director of Technology for fiteBac™ SkinCare, LLC. "Keaton's talents far outreach his computer savvy. We are proud of his accomplishment on a world stage," says Kirk Kimmerling, CEO of fiteBac™ SkinCare, LLC, Marietta, GA.
Mr. Wheeler works in an innovative environment. "fiteBac™ SkinCare, LLC is a technologically advanced company, and that works for me", says Mr. Wheeler. "It promotes a futuristic germicidal hand gel and other platform antimicrobial technology with the capability to make the world a better place." The traditional method of hand sanitizing with alcohol is a protocol of the past, as the alcohol can burn skin, and with repeated use leaves the skin in poor condition. "Clean hands in the medical and hospital environment can be the difference between life and death," says Dan Kearney, COO of fiteBac™ SkinCare, LLC. "A visit to the doctor should not jeopardize a person's health. Clean, healthy hands in the healthcare environment is fiteBac's goal." fiteBac™ SkinCare Germicidal is expected to dramatically change hand hygiene protocol for the better.
About fiteBac™ SkinCare, LLC and KHG: fiteBac SkinCare, LLC is a subsidiary company of Kimmerling Holdings Group, LLC ("KHG"), a Georgia-based biotech company that has developed an antimicrobial platform intellectual property technology. KHG was founded in 2009 by a Cosmetic Dentist in Marietta, GA Kirk Kimmerling, DDS and Dan Kearney. The two set out to create products to "change the world, one product at a time." Kirk and Dan first targeted bacterial issues in dentistry, knowing that solving those problems would lead to dramatic improvements in oral health, and more importantly, systemic bodily health beginning with the Marietta, GA dentist. They engaged a team of highly accomplished chemists and scientists retired from Fortune 500 companies and researchers from major universities. In doing so, KHG has developed technology with several patents pending that has application well beyond dental materials, and has exciting potential in medical, plastic, composite, coating and other applications that are in various stages of development, some close to commercialization. fiteBac™ SkinCare Hand Softening Gel is the first product to be released under the fiteBac brand name.