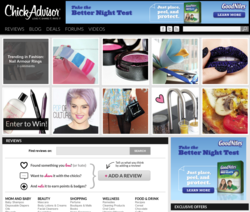 "Our partnership marries the platform we've perfected over the last 5 years and turbo-charges it with incredible audience and infrastructure capable of reaching and engaging consumers at a very rapid pace"
Toronto, On (PRWEB) May 10, 2012
ChickAdvisor and Beyond the Rack have teamed up to launch highly targeted sampling programs that allow packaged goods brands to reach BTR's community of more than 6 million fashion and lifestyle shoppers with samples aligned to their BTR shopping preferences.
ChickAdvisor is a social recommendations platform trusted by tier 1 brands to engage consumers in product testing and reviews. The ChickAdvisor/Beyond the Rack partnership allows ChickAdvisor to expand the depth and reach of its consumer sampling programs to ship up to 120,000 samples per month across North America.
"Our partnership marries the platform we've perfected over the last 5 years and turbo-charges it with incredible audience and infrastructure capable of reaching and engaging consumers at a very rapid pace", says Alex de Bold, ChickAdvisor co-founder. "The BTR sampling program has numerous distinct advantages for the brands we work with, including a highly engaged audience, nationwide coverage, reduced cost of shipping, and best-in-class fulfillment and management."
"The ChickAdvisor partnership is a natural evolution for us", says Beyond the Rack CEO, Yona Shtern. "To-date we've developed important relationships with more than 3,500 fashion and homegoods brands. Working with ChickAdvisor allows us to deepen and add velocity to those relationships while adding tremendous value to our customers."
About ChickAdvisor
ChickAdvisor Inc. is a social shopping and recommendations community used by over 5 million women prior to purchasing products and services. The ChickAdvisor platform, which includes 40,000 consumer product reviews, offers brands a turnkey social recommendations platform that stimulates product awareness and trial through its Review Club and a new gamification engine that engage consumers in a custom points and badges program.
About Beyond the Rack
Beyond the Rack, North America's premier online shopping club, offers its members the most sought-after designer brand apparel, accessories, beauty, and home décor products at up to 80% off retail. Ranked by Internet Retailer's Top 500 Guide as North America's fastest-growing e-tailer in 2011, Beyond the Rack sells its products in the context of two-day, first-come, first-served, limited-quantity events. Members can expect up to 15 new events each day, starting at 11AM ET. The privately held company has offices in Montreal and New York, with a staff of 350 full-time employees. Beyond the Rack proudly serves over 6 million members across North America.