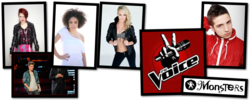 Baltimore, MD (PRWEB) May 09, 2012
Monsters Dance Conventions tour the country with the industry's top choreographers training aspiring dancers. The company's goal is to provide real career opportunities for dancers to work professionally. For Nick DeMoura, Christina Chandler, Elysandra Quinones and Kaili Bright, they are doing just that.
On the finale of NBC's The Voice, these four dancers worked with pop superstar Justin Bieber performing his new hit 'Boyfriend'. DeMoura, now Bieber's co-choreographer, toured as a dancer on his last world tour. He was also a long-time participant at Monsters Dance, the premier dance education convention, as well as a cast member of the 2006 Monsters Show in Los Angeles.
Chandler, Quinones and Bright also trained at Monsters and performed in the company's annual Los Angeles Show, which has become a springboard for dancers to the entertainment industry. Christina Chandler has also gone on to tour with Rihanna and was recently cast as a Fly Girl. Quinones was featured in Justin Bieber's "Boyfriend" video.
Other notable Monsters alumni credits include JaQuel Knight, who choreographed the world famous "Single Ladies: Put A Ring On It" video by Beyonce just two weeks after performing in the 2008 Monsters Show. Most recently, American Idol judge Jennifer Lopez selected alumni and Request Crew member Parris Goebel to choreograph multiple numbers in her upcoming world tour along with Monsters faculty members Tabitha and Napoleon Dumo (SYTYCD).
For More Information Please Contact:
Monsters Dance Conventions
Andy Funk, Founder & Director
P 410-630-1235 x 3
E andy(at)monstersdance(dot)com
W http://www.monstersdance.com