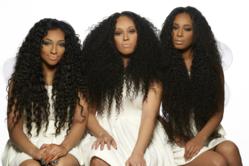 Tell us about your hair fantasy.
New York, NY (PRWEB) May 25, 2012
The Virgin Hair Fantasy Peruca Collection
"Peruca" simply means wig in Portuguese. Our U-Part wigs give our clients the ability to change their look instantly without the commitment of an adhesive or thread. This collection is ideal for a doll in between installs or a doll that wants fabulous hair without the work. The greatest advantage of our Peruca line is the fact that it allows our dolls to take care of their natural hair daily or weekly, without the risk of damage, extra cost or time.
Our Peruca Collection offers the most natural looking wigs in the market. It is a full lace U-Part wig, which allows for easy styling. Every U-Part wig from our Peruca collection is handmade for the perfect fit. Our U-Part wigs are made with 100% virgin hair. TVHF offers the best quality virgin hair on the market so your wig will be long lasting and versatile. Wigs from our Peruca line blend effortlessly with all hair textures because it has a unique construction around the U. It can be worn as a high ponytail and parted anywhere. Giving you countless styling options from everyday hairstyles to glamorous weekend looks.
Our Peruca collection will feature 3 full lace U-Part wigs:
Peruca Dai 18"
Peruca Noce 22"
Peruca Fantasia 24"
1. Cap size fits sizes medium to large- Glue less cap with adjustable straps in the back and comb attachments for security
2. The narrow sized reinforced U-Part section allows for undetectable blending and is fully adjustable.
3. Medium to high density for a natural look.
4. All units are custom made so allow up to 6 weeks to make.
5. Color is natural black (similar to the color #1B) Wig can be dyed however we recommend you use a trained professional.