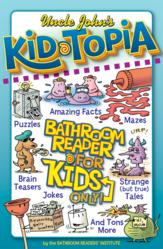 The key to avoiding the "summer slump" is making reading and learning fun!
San Diego, CA (PRWEB) May 09, 2012
Summer is almost here and parents all over are looking for fun and educational ways to keep their children's brain active and learning over the summer break. Baker & Taylor Publishing Group, the company that brings you books from Silver Dolphin Books, Portable Press and Thunder Bay Press, have recently released a variety of activity books and games to keep children entertained and thinking while at home, or on vacation, this summer.
For the Pre-School Set:
Silver Dolphin Books is excited to launch a new activity series, Learn & Play. Available for purchase in June, the first two titles in this interactive learning series are Learn & Play: Floor Puzzle ABC ($16.95, ages 3 and up, 16 pages ISBN: 978-1-60710-423-0) and Learn & Play Floor Puzzle 123 ($16.95, ages 3 and up, 16 pages ISBN: 978-1-60710-424-7). Learning the alphabet and identifying numbers 1-10 becomes a fun activity for kids with these new activity sets. Children will delight in piecing together their fun shaped floor puzzle, decorating their interactive poster with their reusable stickers and working with Mom and Dad in their own activity books featuring mazes, games and doodle areas.
Elementary Go-ers:
Over at the Bathroom Readers' Institute® they just refuse to grow-up. Uncle John's Kid-Topia ($12.95, ages 6-10, ISBN: 978-1-59223-827-9) is full of all the things that make bathroom reading for the younger set great. Games, mazes, crafts and even tips on how to defrost a Woolly Mammoth (should you ever encounter a frozen one) make this book a great choice when looking to spark ideas, creativity and learning.
Teens: Pre and Proper:
Yes, Edward and Bella will be back on the big screen this summer. But this big finale may leave some Vampire lovin' teens with a hole in their lives after the movie has been seen. The Vampire Doodle Diaries ($12.95 ISBN: 978-1-60710-437-7) is perfect to have while waiting in line for that midnight showing or a fabulous distraction from post-movie angst. Is the walking dead more your kid's scene? Then let them draw, play and write about their favorite brain eaters with The Zombie Doodle Diaries ($12.95 ISBN: 978-1-60710-438-5)
For additional information on the books mentioned, please follow us @SilverDolphinBooks, @ThunderBayPress and @bathroom_reader.
About Baker & Taylor Publishing Group
Baker & Taylor Inc. (http://www.baker-taylor.com) is a global information and entertainment services company that offers print and digital books and entertainment products along with value-added services to libraries, educational institutions and retailers. Based in Charlotte, N.C., the company has been in existence for more than 180 years, developing long-term relationships with major suppliers, including book publishers, movie studios and music labels. Baker & Taylor maintains one of the largest combined in-stock book, video and music inventories in the United States, and services the broadest customer base in the industry. Baker & Taylor is majority owned by Castle Harlan Partners IV, L.P., an institutional private equity fund managed by Castle Harlan Inc., a leading private equity investment firm.