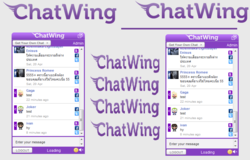 Omaha, NE (PRWEB) May 08, 2012
Entrepreneurship is now on a bigger scale, thanks to the countless of websites and blogs that were created for that purpose. Because of this large scale, a lot of online shoppers turned to blogs when it comes to reliable product information. Chatwing, an efficient chat box, was built to provide top-rate communication for these online shoppers. Through a simple chat panel, these online shoppers will now have the opportunity to post their questions or sentiments.
Chatwing with Wordpress is similar to other free chat widgets out there, but it maintains connection for longer periods of time. Adding to that, Chatwing chatrooms users can log in with their Facebook or Twitter accounts. Through this option, people will now have the opportunity to exchange information easily. Early users of the Chatwing website chat have observed a proficient relay of information through blogs and websites. Through Chatwing, people are more exposed to information, especially online shoppers.
Online entrepreneurs, on the other hand, have relied on Chatwing when it comes to customer service. The chat box allows the blog visitors to use avatar displays and emoticons. This makes any conversation exciting or interesting. Some bloggers have used the application to post messages in a small 'announcement style.' This is an effective move, especially if the entrepreneur is introducing a new product or service to the market.
"Chatwing is a reliable and inexpensive marketing tool. It is straightforward and relatively easy to use. After customizing the application, it will go live in just few seconds," Commented by one of Chatwing's early users. In the latest version of Chatwing, the avatar display has become smaller in order to accommodate more messages.
New users who want to discover the potential of the Chatwing shout box can go directly to its Facebook page. Additionally, users can also start chatting right away in Chatwing's main page because a chat box is already embedded. This is useful for test-runs before the actual embedding of the widget.
About Chatwing.com
Chatwing.com has developed live chat software for websites and blogs. It caters to different online communities due to its high rate of connectivity. Everyone can create a customizable live chat box feature in 1 minute or less. Users have the ability to customize the size, color, and fonts of the chat product. The ability to chat via social media accounts such as Facebook and Twitter enable Chatwing to offer a personal and unique real-time experience to all sites. Chatwing is 100% free and very easy to use.