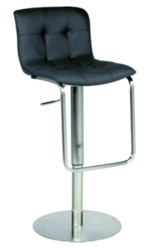 We have a strong tradition of idea sharing
San Francisco, CA (PRWEB) May 12, 2012
Bar Stools For Less, Inc. is in the final stages of composing the next installment of its 'Tip Sheets.' The retailer of discount bar stools is confident that the information resource will be well received by customers.
A company spokesperson from the website said, "We are all about information. In conjunction with offering webinars and detailed individual responses to customer emails, the company has a strong tradition of idea sharing. The next planned e-mail tip sheet is another continuation of this trend and one that we hope continues to be popular."
The tip sheet will contain information shared by customers and expert advice from design consultants at the company. Ideas such as décor, color combinations, styles, inspirations and material sources will be covered.
Practical advice on fabric care will also be given center stage. "Our customers are very good at sharing information and it is often so valuable that we think other customers would benefit from knowing it too. For example, one shopper discovered by accident that a certain product was damaging to chrome, and wanted to warn others to stay away from it if they too had bar stools made from chrome. "
A customer of BarStoolsForLess.com, Jessica Hern from McLean, VA said, "I am on the company mailing list and really look forward to receiving the next tip sheet. I love anything to do with design, interiors and furniture and am always happy to learn new tricks and tips about renovations and anything crafty. As I don't work in the design world, the tip sheets and other similar internet resources are a great way for me to expand my knowledge and indulge in my hobby. I'll be especially interested to learn about trends for the next season, straight from the mouths of furniture designers themselves."
The company's website is http://www.barstoolsforless.com/.