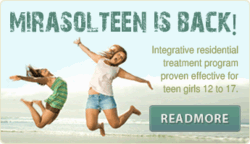 Standard pyschological tests
administered before and after
treatment at Mirasol show
dramatic decreases in
eating disorder symptoms.
Tucson, AZ (PRWEB) May 09, 2012
Mirasol's new mind, body, and spirit treatment program for teens struggling with eating disorders is small; only ten beds. Mirasol founder Jeanne Rust, PhD, LPC is focused on the progressive eating disorder treatment center to tailor its recovery processes to individual client needs. The multidisciplinary integrative treatment for adolescent girls and boys is a safe haven for the young people who suffer from extensive peer pressure and chronic stress with trauma, which often results in Anorexia, Bulimia and compulsive eating.
At Mirasol Adolescent Eating Disorder Treatment Center, each teen receives a thorough medical, emotional, psychiatric, educational, developmental, nutritional and social assessment by licensed and professional clinicians. The staff subsequently develops a treatment plan for each individual child with a focus on the presenting issues. The recommended length of visit to the residential eating disorder treatment center varies with each child and all progress is monitored weekly. New goals are set and assessed where registered nurses, psychiatrists, and physicians provide 24/7 monitoring of the child's care. (I took out naturopathic because naturopaths in the state of AZ are licensed as regular docs).
The Mirasol staff works closely with the families and primary caregivers to assist the teens in integrating the new behaviors and skills into their daily life. They gain confidence, learn personal responsibility and recover from their eating disorder behaviors, to eventually make a smooth transition home with an intensive aftercare plan in place.
Mirasol's Focused Continuing-Care Aftercare is implemented for one year after treatment. While in treatment the girls receive at least 2-3 sessions of individual psychotherapy weekly, depending upon their needs. The girls also participate in group therapy that includes:
Psychoeducational groups about eating disorders, nutrition, appropriate exercise levels, family dynamics, depression, anxiety disorders, roles and relationships, and more.
Process groups that are structured cognitive-type groups or completely experiential. This is where group members relate to each other and compare and contrast their personal experiences.
Daily life skills groups help clients learn hands-on skills that help them with everyday life. These skills include time management, cooking, menu planning, shopping, the skills they need in school, work, with family and friends and important problem solving skills which are the cognitive steps they can use to handle any situation that arises.
Neurofeedback plays an important role in the program as clients receive the skills to regulate their brain wave activity. Neurofeedback is extremely successful in treating not only the eating disorder, but also ADD, Obsessive Compulsive Disorder, Substance Abuse, anxiety, depression, and PTSD.
Teens at Mirasol Adolescent Eating Disorder Treatment Center are encouraged to participate in the expansive array of outdoor activities with a strong inward-focused therapeutic component. Sports include challenge courses, rocks and ropes, camping, caving, kick boxing and "Flight into Aerial" combining dance with low-flying single point trapeze. Weekends are structured with workshops covering a range of topics from assertiveness training to sexuality, spirituality and art therapy.
Teens who choose to continue their education while in treatment are also provided with access to schools. Mirasol works with an excellent tutor who is available to supervise the students and help them with any lesson problems they may have. The student can choose to work with their own school receiving assignments and tests sent online or they might choose to work with the fully accredited online junior high or regular high school program provided by Mirasol.
Peer pressure in today's society to be thin is overwhelming and startling. Magazines are not presenting an honest picture of young women and impressionable teens are suffering. Mirasol is the gateway to healthy living for young individuals finding their way in today's society. Learn more by visiting http://mirasol.net