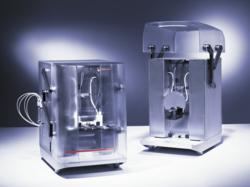 "Using streaming potential for adsorption studies offers a different aspect to this complex topic." Dr. Vinod Radhakrishnan
Ashland, Virginia (PRWEB) May 10, 2012
The SurPASS measures the streaming potential, or alternatively the streaming current, to monitor adsorption or desorption from a sample surface. The measurement takes place on the actual surface, rather than model surfaces, incorporating a high fluid volume exchange rate similar to real processes.
The SurPASS also calculates the zeta potential of solid surfaces from the measured streaming potential or streaming current data. Zeta potential is a very sensitive measure for adsorption kinetics and surface uniformity, and even small amounts of adsorbed material can be detected.
The package includes the newly released ATTRACT software which enables time-dependent experiments and provides an easy-to-use test setup, including automated addition of the adsorbate.
The measurement may be extended to run pH titrations for standard surface chemistry characterization and works with all sample cells currently available for the SurPASS product line.
"Using streaming potential for adsorption studies offers a different aspect to this complex topic and can deliver additional information to complement Quartz Crystal Micro-Balance (QCM) or Surface Plasmon Resonance measurements" says Dr. Vinod Radhakrishnan, SurPASS Product Specialist at Anton Paar USA.
The package is released and available for purchase immediately.
Anton Paar is a leading supplier of measuring instruments for liquid density, rheology, streaming potential, Small Angle X-ray Scattering and provides advanced solutions for refractometry, polarimetry, online-measurements, microwave synthesis and microwave digestion.