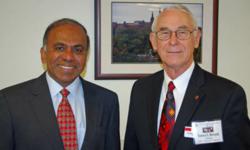 Suresh urged societies to take a lead role in tackling 'national and global challenges' in technology transfer
Washington, DC and Bellingham, Washington, USA (PRWEB) May 08, 2012
Competition for federal funds for research and education, the entrepreneur's "valley of death," and changes in the workforce dominated talks among leaders of SPIE and other societies gathered for a Council of Scientific Society Presidents (CSSP) meeting in Washington, D.C., last week.
Chaired by 2012 CSSP Chair and SPIE Past President Ralph James (Brookhaven National Lab), the gathering heard from speakers including Subra Suresh, director of the National Science Foundation (NSF).
Suresh urged societies to take a lead role in tackling "national and global challenges" in technology transfer. The entrepreneurial process so frequently fails that the terms "Ditch of Death" and "Valley of Death" are common characterizations, he noted
Suresh said that NFS had launched a Career-Life Balance Initiative last year in response to changing needs and trends in the workforce. He noted that only 1.43% of bachelor's degrees in the U.S. are awarded to women in engineering.
Suresh is a co-author of a recent open-access paper on a new optical technique for studying sickle cell disease in the Journal of Biomedical Optics.
In a technical talk, physics Nobel Laureate Saul Perlmutter (Univ. of California, Berkeley) spoke about the expansion of the universe.
He noted that the light -- and therefore images derived from it -- arriving at Earth today left its origin in the distant cosmos in many cases before our solar system was formed. Perlmutter said that cosmology is only just taking off when considering the significant advances that are expected from new telescopes and other advanced optical systems.
The SPIE Astronomical Telescopes and Instrumentation meeting in Amsterdam in July will feature presentations from developers of such technology, including the James Webb Space Telescope, the Kepler Exoplanet Survey, ALMA (the Atacama Large Millimeter/submillimeter Array), and other projects.
Rep. Frank Wolf (R-Virgina), chair of the House Commerce-Justice-Science Appropriations subcommittee, gave a frank talk on the issues around supporting science and STEM education (for science, technology, education, and mathematics) during a time of tight federal budgets. Wolf said that while he supports science he also worries about debt. In response to a question, he predicted that climate will not be an issue in this year's election in the U.S.
Liza Mundy, Fellow of the New America Foundation, award-winning staff writer for the Washington Post, and author of books including the recent "The Richer Sex," said that in a growing majority of households in the U.S. women are the breadwinners and touched on the possible implications of the trend. There is as yet little data as to how that will affect science and engineering, where a relatively small percentage are women.
Other speakers included Arun Majumdar, Undersecretary of Energy; Martha Kantor, Undersecretary of Education; and Hunter Rawlins, president of the Association of American Universities.
A highlight of the event was the presentation of the CSSP Leadership Award to Fred Kavli, physicist, entrepreneur, and founder of the Kavli Foundation, organized to advance science for the benefit of humanity and promote increased public understanding and support for scientists and their work.
The final session, a workshop on "Reinventing Undergraduate Faculty Teaching," was led by Carl Wieman of the White House Office of Science and Technology Policy.
Along with James, SPIE leaders at the meeting were President Eustace Dereniak (College of Optical Sciences, Univ. of Arizona), President-Elect Philip Stahl (NASA Marshall Space Flight Center), and CEO Eugene Arthurs.
About SPIE
SPIE is the international society for optics and photonics, a not-for-profit organization founded in 1955 to advance light-based technologies. The Society serves nearly 225,000 constituents from approximately 150 countries, offering conferences, continuing education, books, journals, and a digital library in support of interdisciplinary information exchange, professional growth, and patent precedent. SPIE provided over $2.5 million in support of education and outreach programs in 2011.