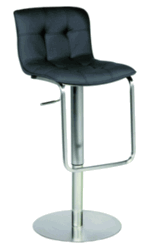 Bold statement pieces are selling well these days.
San Francisco, CA (PRWEB) May 16, 2012
BarStoolsForLess.com, a popular retailer of bar stool style seating, announces a sale on swivel bar stools and says that for those looking for a statement piece of furniture, a seat in motion may be the suitable answer.
A spokesperson from Bar Stools For Less, Inc. said, "If clean lines, ergonomic geometry and neutral shades are your preferred décor, you will love our range of swivel bar stools. What's so great about them is that, for their modest size, they pack serious style-punch."
The spokesperson was asked to give details about some of the most popular designs that are available as part of the sale that sees some models reduced by up to 12%, at this section of their website.
"Bold statement pieces such as the 'Viva' range are proving incredibly popular from our swivel barstool selection. They are by far our most stylized models and customers have been enjoying them as a feature piece in their homes and work places."
When asked why statement pieces are proving to be such hot sellers, the spokesperson explained there appeal.
"You can make a very simply decorated room come to life with a carefully chosen, well-crafted piece. The appeal of quirky, off-beat styles is that they represent an economic and minimal way to really make a room 'pop.' Working equally well in singles and pairs as well as larger numbers, for a very reasonable price you can have a room speak volumes and make a strong stylistic impression that captures attention.
"The Viva range of bar stools come in clear acrylic for colorful rooms where the statement is on the walls on in the fabrics; wood for a natural yet edgy feel; and, black and also brown for maximum impact. Customers are invited to participate in the sale and enjoy savings of up to 12% on seating within this range, while stocks last."
Take a look at other swivel bar stools, visit this page of the retailer's site: http://barstoolsforless.com/swivel-bar-stools.html
###