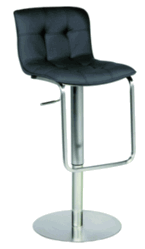 We stock quite a few Lumisource bar stools
San Francisco, CA (PRWEB) May 18, 2012
BarStoolsForLess.com announces the arrival of the Fiore bar stool. An elegant, modern bent wood design, (click here for more details) comes with plush seating and chrome finishing.
Customers are invited to take advantage of a 14% discount on the stool that is available in two colors from the retailer's website.
A company spokesperson from BarStoolsForLess.com commented on the arrival of the new design. "BarStoolsForLess.com is very excited to announce the arrival of the hotly anticipated Fiore bar stool, by Lumisource."
"Lumisource are designers at the top of their game at the moment. Their styles manage to capture a zeitgeist while incorporating shades of vintage designs that manage to look clean and modern."
The spokesperson continued, "Lumisource seats have a characteristic signature curves and shapes that prove highly popular with customers at the site. In addition to looking spectacular, the Fiore also comes with a hydraulic chrome support post. This is wonderful for height adjustment, adding adaptability to this great piece's long list of selling points."
The spokesperson was asked to expand on the perceived appeal of these designs.
"What's also great is that it comes in two color variations; Walnut and Brown, or Cherry and Black. Both combine effortless style, vintage appeal and a modern sheen making these timeless pieces that add the wow factor to any space; home, office, restaurant or bar."
When asked to predict how customers may react to the new addition to the company's product line, the spokesperson spoke in positive terms.
"BarStoolsForLess.com already stocks several other Lumisource seats, including the very popular Viva range. You can also find another good contender at http://www.barstoolsforless.com/worthington-stool.html. We expect these bar stools to perform as well as the others by this fashion-forward brand, and we invite our customers to take advantage of the introductory 14% discount on this line while stocks last."
These and other fashion forward stools can be found by visiting the barstool retailer's website.