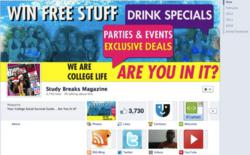 Timeline's new features really enable brands to tell a more engaging and transparent story to their current and potential audience.
Austin, TX (PRWEB) May 14, 2012
Like it or not, changes are coming to Facebook's business and brand pages. Timeline has finally rolled out for brands, which means that a whole new strategy is needed to for a business to keep its current audience satisfied and help it gain new LIKE's from its potential audience. Since February 29th, brand pages have been able to opt in for the new Timeline features. The first obvious change is the new Cover Photo on Facebook Timeline, which gives the ability for a brand to edit and update without navigating to a separate page. It also allows the company to highlight milestones, such as important status updates that they may want sticking around for a bit longer than the other posts.
--Facebook Timeline Features--
Timeline definitely makes pages more social with new features that make the pages more user friendly. When visiting a page, the visitor sees the amount of their friends who have liked the company, along with posts from their friends that are public. Another new feature is the virtual map that appears for the company below the cover photo.
"Starring" an important message is a way to highlight a post that is important to the user, making the post twice as large from the rest, as well as more visually appealing, so eyeballs not only view but also actually read or watch the message. Timeline has created a much more colorful and clean way to navigate and make use of all of the admin features with an insightful panel, which is much simpler to use. That's where features such as notifications, analytics, messages and even a HELP menu are found, which really makes this transition a whole lot more comfortable.
Timeline's new features really enable brands to tell a more engaging and transparent story to their current and potential audience. Viewers have a much easier job finding a company's information by simply clicking the Info section, photos, apps and map of visited places that are all right below the cover photo, making them "impossible to miss."
--Facebook Timeline Flaws--
As with any change (on and offline), there will be a great amount of individuals that believe the new Timeline to be a potential flaw for the company, especially when it comes to brands that have yet to figure out how to provide engaging content for their audience. Since it's only possible to tell a brand's story from a certain year, some believe that the Timeline limits their complete story and history. With all of this being said, brands now have a great opportunity to get very creative with their Facebook presence. It's important to remember that first impressions are everything!
There is a killing point to all of this: Pages no longer have the ability to welcome new viewers with the most widely used and loved default "landing tab," which was how non-fans were previously welcomed when they visited a page before actually LIKING it. Businesses and brands used this powerful marketing feature which gave incentive to viewers on how, where and why one should click the LIKE button with special content/features such as coupons, contests, eBooks and much more, requiring the consumer or viewer to LIKE the Facebook fan page for these special promotions and incentives.
Now that users aren't told what to do and where to do it, brands have to hope that the consumer actually knows where to find the application tab for these special incentives which will, of course, cost brands LIKE's, email signups, entries to contests and various other key indicators. That influential "Landing Tab" was really a great marketing tactic that gave brands a big influence on the behavior of the consumer or viewer, which they no longer have the ability to do in any way besides effectively putting out great and engaging content.
--Using your Timeline Effectively--
Timeline's Cover Photo does help enhance the branding process without relying on third party apps, but this cover photo comes with big restrictions.
What A Cover Photo Can't Display:
1) Calls To Action (C2A) like "Like Our Page"
2) Purchase & Pricing information such as "20% off" or "Download at http://www.StudyBreaksCollegeMedia.com"
Facebook is clearly cleaning up the way brands and consumers interact with one another. Social business has changed the way brands engage with the current and potential audience, and the art of storytelling is now the future of keeping consumers engaged. A man by the name of Scott Cook once said, "A brand is no longer what we tell the consumer it is – it is what consumers tell each other it is." When companies learn to realize that this is absolutely correct, they will then as marketers learn to put themselves in the consumer's shoes and step away from spam.
--Timeline Changes Things Up a Bit--
There are a few things to keep in mind that have changed:
1) Default landing tabs are long gone
2) Tabs are still there and wider than ever at 810px
3) Consumers can now message brand pages directly
4) There are a maximum of 12 apps, so the first ones should be first
5) Cover Photo specs are 850px W x 315px L
For additional info, one can check out this Facebook timeline checklist.
And for more tips on how to customize a timeline, an excellent option is contacting Study Breaks College Media OR starting now with a free custom Facebook tab at wedeliverstudents.com.