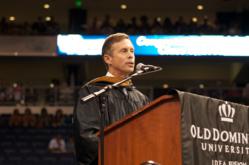 Norfolk, VA (PRWEB) May 11, 2012
Jack Ross, president and COO of Dominion Enterprises (DE), addressed graduating students during the 2012 commencement ceremony at Old Dominion University (ODU) on Saturday, May 5. Ross is a graduate of ODU with a bachelor's degree in business. He remained in Norfolk after graduation to build his career with local employer Landmark Communications, Inc.
Other notable speakers and alumni during commencement included Pulitzer Prize winning reporter Les Payne, and Cisco executive Wendy Bahr.
"ODU is a critical partner for the local business community, and it happens to also be important to me personally and professionally," said Ross. "The opportunity I had to land a good job after graduation, with a growing company in this area, makes me a believer in the importance of intern programs, participation in campus recruiting, and our involvement with student associations. Seeing the strong contribution of ODU grads at Dominion Enterprises, and other local companies, it's hard to overstate the importance of ODU to the future of our local economy."
Coverage of the ODU event highlighted Ross' comments about perseverance, and the importance of a positive attitude in life and in a career.
ODU estimated attendance for the 2012 graduation ceremony at 2,500 students, representing six colleges.
About Dominion Enterprises
Dominion Enterprises is a leading marketing services and publishing company serving the automotive, recreational and commercial vehicle, real estate, apartment rental, employment, parenting, and travel industries. Headquartered in Norfolk, Virginia, with 3,300 employees in the United States, Canada, England and Italy, the company provides a comprehensive suite of technology-based marketing solutions, more than 45 market leading websites and millions of For Rent®, Employment Guide® and travel guide magazines distributed across the U.S. For more information visit DominionEnterprises.com.