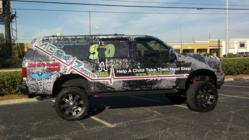 Visit http://www.md247.com!
Tampa, Florida (PRWEB) May 08, 2012
Telemedicine provider MD247 is a first of its kind 24/7 Talk to a Doctor/Talk to a Nurse service which was established for the purpose of providing average people a supplement to either bolster their traditional healthcare coverage. The telemedicine service company informed the press on Tuesday that it would be gravitating away from a traditional print marketing method, placing an emphasis on first person interaction through grass roots campaigns and one on one social media contact. MD247 intends to make these modifications to a traditional marketing plan in order to pass along savings directly to the telemedicine program participants on a daily basis.
The "biggest" attention grabber on the streets in the grass roots marketing campaign is a vehicle deemed the "MD247 Telemedicine Mobile Marketing Vehicle." The "MD247 Telemedicine Mobile Marketing Vehicle" is a model year 2001 Ford Excursion, with 10" lifts and a "car wrap" which advertises both MD247 and a charitable organization called 50 Legs.
50 Legs is a charitable organization established with the purpose of providing a prosthetic leg to an underprivileged child who has suffered either a debilitating accident, birth defect or disease causing the loss of a leg. You can learn more about 50 Legs by visiting http://www.50legs.com.
MD247 (MD247.COM; MD 247; M.D. 247; MD-247) provides discounted supplementary healthcare options, which are intended to enhance quality of life for telemedicine healthcare program members. MD247 has 25,000 telemedicine program members nationwide, employs close to 200 people and devotes a large amount of time and money toward charitable organizations. The MD247 telemedicine program headquarters is in Tampa Bay Florida.