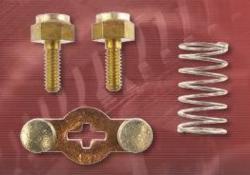 I'm on the west coast…do you suppose you could put the parts on a rocket ship? ... That machine was back in service before noon.
Marlton, NJ (PRWEB) May 11, 2012
Plant managers and purchasing managers are getting creative in finding ways to trim operational costs. This trend is one reason the National Association of Manufacturers (NAM) predicts manufacturers will continue to invest in plant equipment, maintenance and employment in 2012.
A Marlton, NJ, company is part of a leaner supply chain contributing to this growth by introducing low-cost electrical replacement parts. The electrical contacts, carbon brushes and control coils that Replacement Electrical Parts Company (REPCO) supplies are usually obscured within more expensive equipment but very visible in the budgets of plant managers and purchasing decision makers.
REPCO has become a well-known and respected resource for sourcing specialists shopping for alternatives to premium-priced original equipment manufacturer (OEM) electrical replacement parts. REPCO's product line includes electrical contacts for electrical controls, carbon brushes for industrial motors and generators, and control coils that energize motor starters.
Here are some prominent applications where REPCO's low-cost, dependable electrical replacement parts are bolstering the manufacturing comeback in 2012:
Contact replacement sets: REPCO's replacements for General Electric sets are found in a large number of NEMA and IEC power devices and enclosures, as well as ABB replacement contact sets available for a wide range of DC and AC applications,
Definite purpose electrical contacts: REPCO's replacements for Square D controls found in refrigeration, data processing, air conditioning and food service equipment.
Crane & Hoist Contacts: REPCO's replacements for General Electric master switches and limit switches. These can be found in heavy equipment and endure frequent changes in motor speeds.
REPCO has inventory on hand for customers facing costly "downtime".
"I'm on the west coast…do you suppose that you could put the parts on a rocket ship?" joked Donald Hendrick, a contractor and REPCO customer who needed parts "now" to avoid machine downtime. "The rocket ship didn't even scorch the driveway. That machine was back in service before noon."