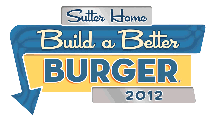 "This is the longest running wine retail promotion in history. We have creative eye-catching point-of-sale which creates an in-store destination to kick off the grilling season."
St. Helena, CA (PRWEB) May 09, 2012
Sutter Home Family Vineyards today announced the 2012 kick-off of the 21st annual Build a Better Burger® Recipe Contest and Cook-Off. The contest is now officially open for recipe submissions, closing September 3, 2012. Finalists will compete for the $100,000 grand prize for the winning all-beef burger, and a $15,000 prize for the winning alternative burger. Finalists will be announced the second week of January, 2013 and the Cook-Off will take place in California's wine country on May 18, 2013.
The Build a Better Burger® promotion includes substantial point-of-sale materials, with consumer appealing retail displays which add impact and excitement to the program. The in-store materials help drive sales of Sutter Home wines and complimentary products, making the shopper experience easier and more interactive.
"This is the longest running wine retail promotion in history. We have creative eye-catching point-of-sale which creates an in-store destination to kick off the grilling season," commented Wendy Nyberg, Senior Director of Marketing for Sutter Home Winery. "The program also includes in-store add-ons such as high-value coupons for grilling essentials. This is a win-win for both the consumer and the retailer."
The winning burgers will be selected by notable chefs and culinary experts. Past judges have included such icons as Iron Chef Cat Cora, Chef/Restaurant owner Thomas Keller, and Celebrity Chef and Restaurateur Art Smith. The judges for the 2012 contest will be announced with the finalists in January, 2013. Burgers will be judged on originality, creativity and taste.
Entrants can visit http://www.buildabetterburger.com to review past winners, judges, and recipes. The website also includes guidelines for creating winning recipes and suggestions for pairing wine with burgers. This year the contest has been expanded to include a social media element. Contestants can submit recipes via Facebook and engage in interactive media promotions such as burger-related sweepstakes and contests, which creates additional excitement and visibility around the summer burger season.
"Being involved with a legacy program such as Build a Better Burger® is an exciting opportunity for our brand," commented Tracey A. Altman, Vice President, Marketing for Wholly Guacamole. "Wholly Guacamole is known as a dip, but we are also a great condiment, ingredient and snack. The Build a Better Burger® program allows us to expand that message with other great brands, including Sutter Home."
"True connoisseurs know the buns are just as important as the meat and fixings for a truly great hamburger," said Julie Abraham, Director of Consumer Marketing for King's Hawaiian. "Using our New Original Hawaiian Sweet Hamburger Buns will give contestants a unique edge: a combination of slightly sweet and savory that everyone loves. We are anticipating some great recipes to share with consumers and hope that everyone will be inspired to look for King's Hawaiian in the deli or bakery section of their store and build their own better burger with "aloha" in every bite!"
Full rules and details for the contest can be found on the website http://www.buildabetterburger.com, which will be updated regularly during the contest.
Sutter Home Family Vineyards, America's preferred premium wine brand, is wholly owned and operated by the Trinchero family, Napa Valley vintners since 1947. Trinchero Family Estates produces more than 28 brands of wine including Sutter Home, Trinchero Napa Valley, Main Street, Napa Cellars, Terra d'Oro, Montevina, Seaglass, Trinity Oaks, Folie à Deux, Ménage à Trois, and the number one alcohol-removed wine, Fre. The company also imports Angove Family Winemakers Australia, Doña Paula wines of Argentina, Carmen wines of Chile and markets and sells the Three Thieves and Joel Gott brands. To learn more visit http://www.tfewines.com or http://www.buildabetterburger.com.
Contacts:
Nora Feeley, Public Relations Director
707-963-5928 ext. 2160 / Cell 707-603-6474
nfeeley(at)tfewines(dot)com
Carissa Abazia, Public Relations Specialist
707-963-5928 ext. 2610 Cell / 707-321-7019
cabazzia(at)tfewines(dot)com