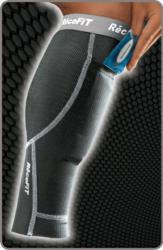 Boulder, CO (PRWEB) May 10, 2012
Shin splints are a common and painful injury for people trying to get into shape as they participate in spring sports and running events. And RecoFit Compression Components has developed a solution: a patent-pending shin-splint treatment product. It combines RecoFit's highly effective calf compression sleeves with a shin-splint icing pocket and flexible, custom-made freezer ice packs.
Shin splints are one of the leading injuries in all of sport and impact about 20% of runners alone. The convenient and effective combination of ice and compression are two key components of the proven R.I.C.E treatment of rest, ice, compress and elevate. RecoFit's shin-splint treatment delivers ice and compression in one easy package. Runners, track and field athletes, soccer players and many others will find this to be more manageable than a bag of frozen peas and an Ace bandage!
This product acts as two-in-one: it is a treatment tool for the injury, and then it can continue to be worn as a compression piece to keep the shin splints from returning.
RecoFit Compression Components are known for their technical, carbon-based, high-compression fabric, gradient compression and left- and right-leg-specific fit for enhanced performance and recovery benefits. RecoFit products are made in the USA.
RecoFit is the Official Compression Sponsor of MarkAllenOnline.com,
Fleet Feet Sports/Boulder Triathlon Team, and Ten20 Women's Cycling Team.
RecoFit is owned by Move Sport Inc.
For more information, contact Susan Eastman Walton at 303-415-0580 and recofit(at)gmail(dot)com.