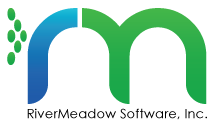 Infrastructure as a Service (IaaS) is a market that is taking off right now and RiverMeadow has the technology needed to accelerate it
San Francisco, CA (PRWEB) May 09, 2012
RiverMeadow Software, technology leader in virtualization and cloud onboarding software, announced the hiring of Mark Shirman as President. Shirman brings thirty years of entrepreneurial experience in the IT services arena. Before joining RiverMeadow™, Mark was the founder and CEO of GlassHouse Technologies. At GlassHouse, he was responsible for building upon the GlassHouse leadership in the storage solutions space, managing the investment community, and setting the vision for the company's solutions development.
"Mark is a terrific get for us because of his track record of building successful organizations in high-growth markets," said Jeff Newman, Chairman RiverMeadow, "We're in front of a tremendous market opportunity and Mark will be key in helping us capture it."
Before starting GlassHouse, Mark was Executive Vice President of Corporate Development and CTO at Convergent Group where he executed a combination of operational and marketing strategies that resulted in a successful public offering and the subsequent sale of the business to Schlumberger Corporation. Prior to Convergent Group, Mark was responsible for the worldwide eBusiness and CRM lines of business for Cambridge Technology Partners.
"Infrastructure as a Service (IaaS) is a market that is taking off right now and RiverMeadow has the technology needed to accelerate it," said Shirman, "I'm looking forward to introducing RiverMeadow enCloud™ to customers who need automated onboarding without complexity."
###
About RiverMeadow Software
RiverMeadow Software is accelerating cloud adoption with the leading technology for automated cloud onboarding and public, private and hybrid cloud agility. RiverMeadow's enCloud software, without agents or interruption, can help enterprises, service providers, and cloud brokers exploit Infrastructure as a Service (IaaS) with less cost and complexity. Founded in 2009, RiverMeadow helps unlock the value of cloud computing.
enCloud is the key to cloud self-service onboarding, enabling the migration of enterprise servers and live workloads from physical, virtual and cloud environments to-and-between clouds. The enCloud software, delivered via licensed software or SaaS model, provides a platform for rapid customer onboarding to the cloud and dramatically reduces the cost and complexity associated with traditional cloud migrations. Without templates, agents or server interruption, enCloud moves servers "as-is" with the least operator effort and the shortest start-to-finish time. In support of hybrid public–private clouds, enCloud supports round-trip moves back to any cloud stack.
RiverMeadow and enCloud are trademarks or registered trademarks of RiverMeadow Software. All other trademarks are the property of their respective owners.