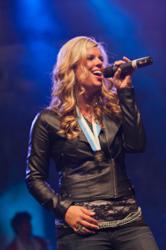 experience KWCUSA in its true form
Cincinnati, OH (PRWEB) May 10, 2012
Karaoke World Championships USA opened the website to receive online video entries for the 2012 KWCUSA Karaoke competition. KWCUSA opened the online entry allowing the submission of any link to contestant videos. Due to music licensing issues, KWCUSA will not display the videos on their site.
Contestant submissions will be judged prior to state and regional competitions. Based on their scores, they may qualify for state or regional competition. The link for online entry can be found on the singer information page at http://www.kwcusa.net/invsinger.htm .
In addition KWCUSA is extending the opportunity for each of the 2011 regional competitors to participate in the competition starting at the state level. The 2011 competitors that actually participated in one of the four regional karaoke competitions do not have to start at local level this year. Wendell Payne, President of KWCUSA, says, "Last season was wonderful for the opportunity presented by the Karaoke Battle USA television show, however it took away the real KWCUSA experience such as singing a minimum of two songs instead of one two minute song. We wanted provide some opportunity for singers that wanted to experience KWCUSA in its true form."
Each 2011 regional contestant that wishes to participate at the state level should register again at the site and email Wendell Payne using the contact page at kwcusa.net.
About Karaoke World Championships USA (KWCUSA)
KWCUSA was the basis for ABC's Karaoke Battle USA.
KWCUSA mission is to organize, facilitate, and manage a viable, impartial competition for the entire United States.
KWCUSA goal is to include as many possible singers from all states and territories of the U.S.A. and provide this opportunity to all amateur performers to represent our country at the Karaoke World Championships.
KWCUSA objective is to identify, prepare, promote true U.S.A. karaoke champions utilizing all of our organizations resources efficiently and effectively observing all guidelines established by the Karaoke World Championship Organization and to provide the due diligence required to facilitate our mission in its entirety.
KWCUSA is the only organization in the United States affiliated with the Karaoke World Championship organization. KWCUSA champions exclusively represent the United States in the only international karaoke competition.
The Karaoke World Championships (KWC) is the largest and most prestigious international karaoke competition in the world. This multicultural international music event without boundaries permeates the spirit of music, entertainment and fun