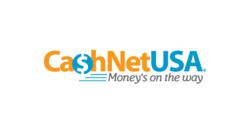 Most companies on TV or the Internet are not even lenders.
Chicago, IL (PRWEB) May 09, 2012
CashNetUSA partners with leading personal finance experts, Charlotte Stallings and Max Jaffe, CPA to educate consumers on the importance of choosing the right short-term lender.
The campaign highlights that there are many payday and installment loan companies advertising on TV or the internet which are not licensed to lend by or in the states where their customers are located. Borrowers working with those companies may be charged significantly higher fees or rates, receive less or nonexistent customer support, and have higher risk of their personal information being sold to other companies.
CashNetUSA is licensed in all the states in which they do business, has 24/7 customer service based in the U.S., and does not sell customer information.*
The new ads can be found at http://www.cashnetusa.com/videos.
Partnering with CashNetUSA and appearing in the spots are Max Jaffe, CPA, founder and CEO of Spending Solutions, Inc., and author of "Maximizing Your Money" and Charlotte Stallings, the President and CEO of Getting Smart! LLC and author of "I Wish Someone Had Told Me: Financial Lessons Learned The Hard Way."
"Initially, I didn't realize that there are dramatic differences between short-term lending companies," confesses Ms. Stallings. "Many companies in this industry are not to be trusted, but CashNetUSA is in an entirely different league. They invest significantly in customer service, are licensed in all of the states in which they do business, and are more affordable than most lenders operating without a state license. If someone decides that a short-term loan is right for them, CashNetUSA is the only company I'd recommend."
"Most companies on TV or the Internet are not even lenders," explains Keith Weinberger, head of CashNetUSA Marketing. "They are loan matching services designed to get customers to fill out applications and then sell that information. Once a customer applies with one of these companies, their loan application could get purchased by a lender unlicensed in their state, which could lead to higher rates, less customer support, and a higher risk of their personal information being sold. Applying directly at http://www.cashnetusa.com, on the other hand, protects consumers from the above concerns.
For more information, visit http://www.CashNetUSA.com.
About CashNetUSA
CashNetUSA helps Americans with the need for short-term credit, quickly delivering the money customers require in emergency situations in 32 states. CashNetUSA has more than 1.5 million customers who have been able to apply online for their loans and credit products from the privacy and the comfort of their own home. CashNetUSA empowers hardworking people to fulfill their financial responsibilities with fast, trustworthy credit.
*CashNetUSA reserves the right to sell customer accounts to third party debt collectors if such accounts go into default.